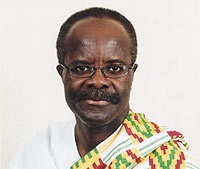 Fri, 18 Jan 2008 Source: GNA
Tamale, Jan 18, GNA - Dr Paa Kwesi Nduom, presidential candidate of the Convention People's Party (CPP), has stated that the Party would not divide the people of the North and fan the flames of conflict in order to win power.

"A CPP government knows that the Northern part of the country needs peace and stability and as a peacemaker, the Party would ensure that special efforts are made to make the area one of opportunity and prosperity".


Dr. Nduom, who is on a three-day campaign tour of the three Northern regions, was addressing a press conference in Tamale on Thursday to unveil his programme for the country and to thank the Party's delegates and supporters for electing him as the flagbearer. He noted that Northern Ghana needed special attention in terms of education, social services, infrastructure, community development and job creation.


Dr Nduom reiterated his vision for the private sector. "A CPP administration under my leadership will give direct support and advantage to the Ghanaian private sector."

He said a CPP government would discourage the importation of goods that the country could produce so that it could create jobs for the youth.


"We would also organise a big public works programme to develop public parks and gardens, build schools, bridges, roads, libraries and ensure a clean environment".


Dr Abu Sakara, First National Vice-Chairman of the CPP, said the 2008 general election would offer a big opportunity to the Party to regain political power and urged supporters to intensify their campaign to woo back people in the NPP and NDC who had their roots in the CPP. He urged the supporters to select mature, experience and credible candidates from their constituencies to stand as parliamentary candidates. 18 Jan. 08

Source: GNA