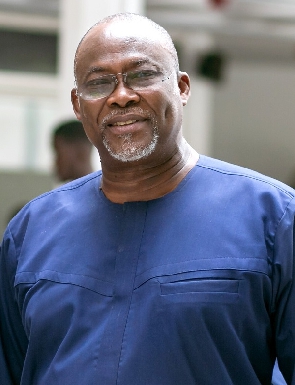 A former Minister of Education, Ekwow Spio-Garbrah, has said it may have been an error for him to contest former President John Evan Atta Mills in the National Democratic Congress (NDC) flagbearer race in 2006.
According to him, he took the decision to contest after the late president, who was his good friend, convinced him he had his support.

He added that he, however, later discovered that the late Professor Mills had also said the same to a number of people, which was then used against him.

"It may have been a mistake. I did that partly because my own very good friend, Prof. Mills, had been telling me, for about five years, Ekwow you are the only one I support, and unfortunately, he also said that to a number of people who then used that against me with him.

"And so even though the jury is out until the day of my departure from earth, I think that decision may have been an error just because I didn't need to put myself in a conflicting situation with a very good friend. But fortunately, President Mills did not find that offensive at all…" Asaase radio quoted Ekwow Spio-Garbrah.

In December 2006, the late Prof. John Evans Atta Mills polled 1362 votes, representing 81.4% of the total votes cast, to win the National Democratic Congress flagbearership slot for the 2008 election. Ekwow Spio-Garbrah polled 146 votes representing 8.7%, Mahama Iddrisu had 137 votes representing 8.2% and Eddie Annan had 28 votes representing 1.7%.

When asked if he would contest in the upcoming NDC flagbearship race, Ekwow Spio-Garbrah said the NDC has not really invited any contestants to show their faces, even though some people believe he (Ekwow Spio-Garbrah) will be a good president.
"Some people believe I can be a good president…The jury is out. I think now there are a lot of wonderful people already putting themselves up, but the party [NDC] has not really invited any contestants to show their faces."

"We've seen some pictures of others who are likely to contest, so we will watch out for them…my view is that whereas in the past I have listened to the advice of a small group of people to put myself forward, I would rather ask for more rigorous analysis to see because there is no point in running [for flagbearer] if you know you are not going to win. And if there is a better person who can do the job better than you, why not?"

The opposition National Democratic Congress (NDC) has set May 13, 2023, as a date to elect their flagbearer.

This was announced by the NDC General Secretary Fifi Fiavi Kwetey, at a press conference at the NDC headquarters in Accra on Wednesday, January 18, 2023.

So far, former President John Dramani Mahama, Kojo Bonsu, and Dr. Kwabena Duffuor are tipped to contest the elections.

NYA/SEA