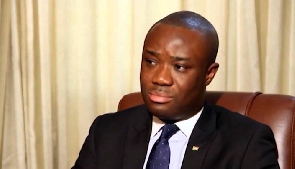 A former Deputy Minister of Communications, Felix Kwakye Ofosu has blamed President Nana Akufo-Addo and Finance Minister Ken Ofori-Atta for the precarious state of Ghana's economy.
Felix Kwakye Ofosu said the country's economic indicators were good when they transferred power to Akufo-Addo in 2017 only for his administration to mismanage the gains of the NDC government.

Ofosu made this statement on TV XYZ Dwaboase programme Thursday when interacting with host Prince Minkah.

In his estimation, Akufo-Addo should have built the country on the good fortunes Mahama left when leaving office. He recalls debt to GDP in 2017 was 56% with a total debt of about GHS 120 billion but the hunger for loans in Ofori-Atta would double the figure in 4 years.

"When we were leaving power, the economy was on a growth path and the figures were good. When Nana Addo and Bawumia took over power, the economy was fairly good. Although the country faced some challenges [erratic power supply] in 2014 and 2015 but the president at the time, John Mahama turned things around and we found our feet again," Ofosu narrated in Akan.

"Nana Addo and Bawumia met a good economy and everyone knew things were okay; there was stability. In 2017 and 2018 that was seen and that cannot be their work; it was the work the NDC did in the previous years. It was in 2018 when the policies of the NPP began yielding fruits that we saw that they were destroying the country. when the IMF left the country, then the Economic Management Team, including the Finance Minister Ken Ofori-Atta brought out reckless policies that began destroying the finances of the country. when we were leaving office, the country's total debt was about 120 billion…but today it is over GHS 500 billion," he said.

"On page 13 of the NPP's 2016 manifesto, they promised Ghanaians that they will reduce borrowing but they have doubled our debt stock and that is why we in this hardship," he stated.
He said it was for this reason that investors left the country and left the economy into the hands of the government which he said had no clue of managing the economy well.

The loans, he said were not used prudently but were consumed by the government which led the country into high debt levels.

"The government owes contractors about 40 billion. It can't pay school feeding contractors and can't provide text books. This is all because of the mismanagement of the economy," he stated.

Kwakye Ofosu says the country's hardship will continue because the president and his cousin Ofori-Atta are not ready to be truthful to Ghanaians about what has caused the hardship coupled with what he calls hyper inflation.

Meanwhile grading firm Fitch Solutions says it expects Ghana's economic activity to slow further in 2023 and heighten hardship among citizens.

"A decline in real incomes will weaken consumer activity in 2023," Fitch said in a statemen