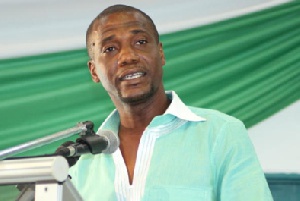 Sun, 25 Aug 2013 Source: peacefmonline
When heads of the various political parties decided to team up and visit President Mahama and flagbearer of the New Patriotic Party, Nana Akufo-Addo, one political head was left out of the remarkable trip.
With the exception of Dr. Nduom, all the other presidential contestants of the 2012 election visited Nana Akufo-Addo and President Mahama at their respective abode to remind them to put the interest of the nation first before and after the final verdict is delivered by the Supreme Court.

The absence of Dr. Nduom has created room for him to be labeled a "coward" by Mr. Jacob Osei Yeboah. According to him, Dr. Nduom, has clearly proved to Ghanaians that he was not born a leader and cannot pick up that mantle at any point in time.
In an interview with OKAY FM, Mr. Jacob Osei Yeboah, popularly known as 'JOY', stated that as political leaders, they could all decide to fly out of the country just as Dr. Nduom has done and leave the nation to burn.

But he explains this is not the way to go as a leader. He believes this hour calls for a joint partnership between all leaders in the country, to stand up and protect the destiny of the nation.
Source: peacefmonline