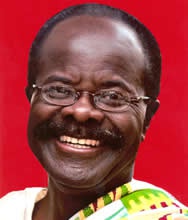 Tue, 20 Sep 2011 Source: GNA
Dr Papa Kwesi Nduom, Election 2008 Presidential Candidate of the Convention People's Party (CPP), on Monday pledged unflinching support to the newly elected executives of the party.

He has therefore encouraged the new executives to move with urgency to ensure the election of Parliamentary and Presidential candidates soon to offer them enough time to campaign effectively.


Mr Richard Nii Amarh, Spokesperson of the Youth for Nduom 2012 Exploratory Committee, announced this at a press conference in Accra.


However, he said, Dr Nduom would make a firm decision whether to contest or not for the Flagbearership after the party had taken a decision on the modalities.


Mr Amarh explained that this was Dr Nduom's response to the conclusions and recommendations of the Committee commissioned early this year to ascertain the viability of his candidature for the Flagbearership and measures to be put in place to ensure victory for the CPP.


"Dr Nduom is aware of the interest expressed by other members of the party for the flagbearer race and deemed it right to withhold his decision until the appropriate time, though the Committee had given him the green light to pursue his presidential ambition since there is undoubting hope for success in Election 2012."


"Indeed the highly successful congress of the CPP has motivated others to join the contest," Dr Nduom said during interaction with the Committee.

Mr Amarh said the Committee recommended the establishment of more constituency and regional offices of the party and to make significant effort to strengthen polling station organisation, ensure a robust and effective communication or education on CPP policies to Ghanaians and inclusion of the youth into leadership positions at all levels in the party.


He said after series of interactions with the Committee to review the conclusions and recommendations, Dr Nduom expressed the believe that it was time to ensure completion of polling station organisation and resolve all differences between leading members of the party to bring about unity.


Mr Amarh announced that to demonstrate his commitment to the progress of the party, Dr Nduom had decided to ensure that 50 constituencies were fully resourced with offices and related equipment and furniture to make them capable of working effectively.


"This has already started in the Eastern, Ashanti, Central, Greater Accra, Western and Northern Regions," he added.


In addition, Dr Nduom has provided three video vans to visit communities during the evenings to show documentaries on CPP's ideas and policies and further pledged to provide pick-ups and motor bikes to all the 10 Regional offices of the party, and support 50 Parliamentary candidates during Election 2012.

Source: GNA