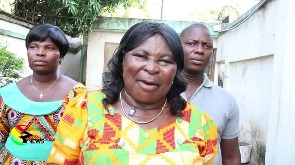 Ghanaian politician Madam Akua Donkor has asked Ghanaians to give President Akufo-Addo a break and give him the peace of mind to run the country.
The founder of the Ghana Freedom Party (GFP), said the complaints of economic hardship are not new.

According to her, since the days of the late Jerry John Rawlings, Ghanaians have complained about economic hardship, and that has not changed.

Madam Donkor stated that the current administration has done its best to address the challenges we face.

The government has made significant investments in road projects and other key policies that have improved people's lives.
"Economic hardship has been with us since Adam, so why should we blame Akufo-Addo? Ghanaians have been complaining since the late Rawlings era. When Kufour took over, he was dubbed Kufour Fallon because of the water crisis. Mills was also chastised, and this has remained the attitude of Ghanaians. Despite doing his best, Akufo-Addo is being chastised today.

Commenting on the National Cathedral Project, she asked Ghanaians to allow the project to be completed.

Madam Donkor said she had earlier opposed the idea of the Cathedral, but after further explanation and understanding of the funding and objective of the project, she supports its construction.