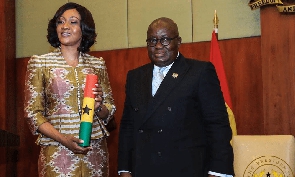 President Nana Addo Dankwa Akufo-Addo has urged the Electoral Commission of Ghana to ensure that all stakeholders have no doubts about the results of elections it conducts since the strength of Ghana's democracy rests on the credibility of the electoral process.
In a broadcast to the nation on the eve of the 30th anniversary of Ghana's 4th Republic, President Akufo-Addo noted that Ghana's democracy has come a long way and Ghanaians must not take it for granted.

"Fellow Ghanaians, I acknowledge that the strength of any democracy is very much determined by the credibility of its electoral process, and respect for the will of the people. We cannot overlook the fact that instability has followed disputed elections in many parts of the African continent.

"That is why we, in Ghana, must continue to urge the Electoral Commission to work to ensure that all stakeholders in the electoral process, that is the citizenry, civil society and political parties, do not have lingering questions about the legitimacy of an election.
"On the two (2) occasions in which disputes have arisen over the results of presidential elections, happily it was in the court, and not on the streets, that the issues were satisfactorily resolved," he said.

Ghana 4th Republic came to being on January 7, 1993 following the swearing in of the late President Jerry John Rawlings as the first President of the 4th Republic. The 4th Republic has been the most enduring of Ghana's democratic experiment given that the first three constitutions were overthrown by military coups.