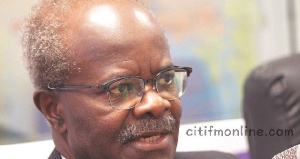 Sat, 25 Feb 2017 Source: ATV
Dr. Papa Kwesi Nduom's decision to serve Ghana under former President Kufour didn't sit well with most members of the Convention People's Party as they saw the move as a stab in the back.
According to the former Energy and Public Sector Reform minister, when he accepted to serve under the erstwhile NPP administration, some people claimed he had crossed carpet and bitterly insulted him.

Dr. Nduom's decision to visit the matter was borne out of the similar vilification Hon. E.T Mensah recently suffered from some NDC executives of the Ningo-Prampram constituency because he had opted to join the race to become a representative of the Greater Accra Region on the Council of State.

Hon. E.T. Mensah a former NDC Member of Parliament for the Ningo-Prampram Constituency was among those contesting to represent the Greater Accra Region on the Council of State.

But contrary to his personal decision to contest, Hon. E.T. Mensah backed off from the contest.
In a letter dated 16th February 2017 the former MP stated that "I wish to inform you of my decision to redraw from the Council of State elections for the Greater-Accra Region"

And speaking on ATV's Ghana Great and Strong show, Dr. Nduom noted that "I know this issue and I have felt this issue". He explained that "Many of you remember I was a member of the CPP and was invited to serve under former President Kufuor led... When I did that they said he has gone to join the NPP".

Dr. Nduom advised that rather than the insults, people should understand that no matter our political colour, we can all help when it comes to nation building.
Source: ATV