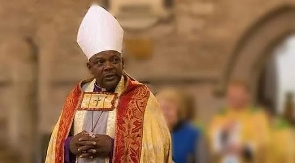 Metropolitan Archbishop of the Anglican Church for the province of West Africa, Rev. Dr Cyril Kobina Ben-Smith has given the strongest backing to President Nana Addo Dankwa Akufo-Addo regarding the construction of the controversial National Cathedral.
He encouraged the President to remain resolute and carry on with the project in spite of the pessimism and criticism that he faced for embarking upon the project.

Rev Dr Ben-Smith, who serves on the Board of the Volta River Authority (VRA), described persons criticizing the project as naysayers, whom the President ought to ignore and go ahead with the project, which bears ample testimony of his devotion to God.

"Your Excellency, your building of the National Cathedral is a long testimony of your devotion to God and no matter the naysayers it will happen," he assured in a sermon during the Second Presidential New Year Service at the Jubilee House held on January 10, 2023.
Drawing analogies from the Bible, Rev Dr Ben-Smith compared President Akufo-Addo to the biblical King David who built a house for God despite opposition.

"You and other world leaders, King David faced similar challenges that we are still experiencing. The murmuring of the people and lamentation of the crowd, the abuse and lack of understanding of the issues that are clear to all…Yet David stood resolute, in his conviction in the midst of opposition," he insisted.

The building of the National Cathedral has generated considerable controversy following the Government's obfuscation of issues on it and the use of taxpayers' money for its building despite initial assurances that except for some seed money, Government revenue was not going to be used.