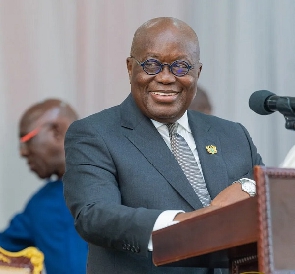 The Metropolitan Archbishop of the Anglican Church in charge of the province of West Africa Most Rev. Dr Cyril Ben Smith has warned persons praying against President Akufo-Addo.
According to the man of God, such individuals would be doing so at their peril.

He was speaking at a New Year service at the Jubilee House on Tuesday.

He urged Ghanaians to support the President in prayers in difficult and good times.

He said, "any Ghanaian who prays against the success of this nation and President Akufo-Addo does so at his own peril."

Commenting on the cathedral project, he said just like King David in the Bible, Ghana's president is facing opposition because he has promised to construct the cathedral.

To the president, he asked him to remain resolute since there is a reliable God.
"You and other world leaders like King David faced similar challenges that we are still experiencing, the murmuring of the people and the lamentations from the crowds.

"The abuse and the lack of understanding of the issues that are clear to all, yet David stood resolute in his conviction in the midst of opposition," he said.

"The fact of life is that throughout all life, there have always been people who will support and assist you in different ways. They side with you and there are people who will always like what your Excellency normally call the naysayers, they are there, and they will always be there. Do not be bothered, we have a God who is reliable."

On his part, President Akufo-Addo reiterated that the project would be completed or reach an appreciable level before he leaves office.

On the economic challenges, he said "Let me reiterate my confidence that with the spirit of fairness, hard work, integrity and reconciliation, the best days of mother Ghana lies ahead of us. Even though we are presently confronted with difficulties in our economic performance, I do not doubt our collective resolve as I said on 6th January to work our way out of these challenges and put our nation back unto the path of progress and prosperity."