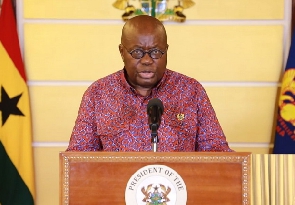 President Nana Akufo-Addo has said his government has strengthened the capacity of institutions to fight corruption than any government since independence.
Talking about the need to safeguard the country's democracy, the President noted that "if we seek to prolong our democratic journey, it is imperative that we enhance transparency and accountability in our governance structures, and build strong institutions that can fight corruption and the dissipation of public funds".

It is on the back of this that he declared, "I say, without any form of equivocation, that my government has undertaken, arguably, the boldest initiatives since independence to reform and strengthen the capacity of our institutions to tackle corruption in the public sector, including the financial empowerment of the anti-corruption bodies, the passage of the Right to Information Act, which previous administrations had been unable to effect, and the establishment of the Office of Special Prosecutor, an independent, non-partisan body, with the relevant professional capability and exclusive mandate to investigate and prosecute acts of corruption."

He noted that on all accounts, Ghana has come a long way, and Ghanaians should not take it for granted that everybody in Ghana has accepted democracy as the preferred mode of governance.
"There are those who would rather have authoritarian rule, because they claim our country is underdeveloped and democracy is cumbersome, and we need to get things done in a hurry. We still have some work to do to convince such people that we are all safer under democracies," he noted.

Nana Akufo-Addo said these on Friday, 6 January 2023, in his televised address to the nation to mark 30th Anniversary of the 4th Republic on Saturday, 7 January 2023.