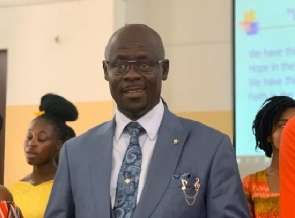 Former Communications Director of the governing New Patriotic Party, Yaw Adomako Baafi, has accused the opposition National Democratic Congress (NDC) of instigating the insults spewed on President Akufo-Addo by 8 female students of Chiana SHS.
The Ghana Education Service on January 11, 2023, announced the dismissal of eight female students of the Chiana Senior High School after they were captured in a video making several disparaging remarks about the president.

Speaking in an interview on Wontumi Radio, Mr Adomako Baafi while criticising members of the NDC for advocating for the girls alleged that, the actions of the students were orchestrated by the main opposition party.

"Today Akufo-Addo is the victim and tomorrow it could be me. I am not shocked that Pablo is defending it. The things politicians say, especially the NDC including the likes of Asiedu Nketiah and others who think they are doing so to tarnish Akufo-Addo and the NPP, the children are picking it up. The likes of Akamba and Sammy Gyamfi are guilty of instigating them, and that is the result we have today. If they had intensified their investigation, they would have found that the NDC was behind it. They caused them to do it," he alleged.

The dismissal of the 8 final year students was approved by the Ghana Education Service after it was recommended by their school.

However, the Ministry of Education in a release dated Friday, January 13, 2022, said President Nana Addo Dankwa had intervened in the matter of the 8 girls after it was brought to their attention.
Consequently, the ministry directed GES to rescind their dismissal and find an alternative means of reprimanding the girls.

The Ghana Education Service further to the ministry's directive issued a statement announcing that it has rescinded the dismissal of the girls.

"In the meantime, the affected students are to report to the Headmistress of the School for further directions," part of the statement read.



GA/ESA