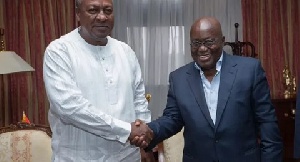 A communications team member with the ruling New Patriotic Party (NPP), Emmanuel Danso Attefah says President Nana Addo Dankwa Akufo-Addo is youthful in the brain than former President John Dramani Mahama. He said the former president exhibited extreme incompetence during his tenure.
''Nana is humble, nationalistic, and a doer,. He is affable and a man of timber and calibre. I always say that Nana Addo is more youthful in the brain that Mahama because he is very youth centered. He thinks more about the youth. All his policies affects the youth of Ghana more,'' he said.

The economic situation under the NDC was terribly bad but Nana Addo has shown that, his policies will keep the economy on track.

He said, all the social intervention programmes enjoyed by Ghanaians were rolled out by the NPP including the school feeding, free maternal healthcare which was destroyed by the incompetent NDC.

Ghana he said will work again under the current president who has delivered on his major campaign promises including the free senior high school policy, the restoration of the nursing allowance among others.
He added, the cancellation under the former president was unwise and the reasons assigned to it were needless and unfortunate.

The cancellation he noted brought untold hardship on trainee nurses and that also caused their defeat. The argument that the cancellation increased intake he stressed was illogical and an after thought.

He said, the NPP government is committed and will not do things anyhow.

The president is very committed and will not fail in delivering on his campaign promises.