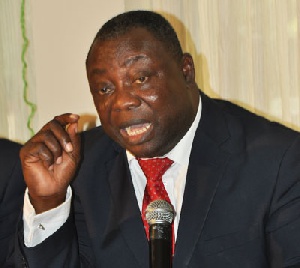 Former Ghana Ambassador to India, Sam Pee Yalley has questioned the rationale behind President Nana Akufo-Addo's obsession with building a National Cathedral at a time of economic austerity.
Speaking on Dwaboase on TV XYZ, the National President of the NDC Professionals Forum (PRO-FORUM) wondered which benefit the citizens stand to gain from the construction of a facility which President Akufo-Addo has said is a fulfillment of a promise he personally made to God before becoming the country's leader.

In his estimation, the project is not a priority at a time economic hardship is being battled by almost every house hold with the government relying on the International Monetary Fund's (IMF) support to balance the country's finances.

"President Akufo-Addo is a bad leader; He is a bad driver who has led the country to a low level…And with all these economic challenges, he is focused on building a cathedral," he lamented.

Sam Pee Yalley, a veteran legal practitioner chastised the managers of the economy and admonished the president to focus on tackling the economic mess his cousin, Ken Ofori-Atta, the Minister for Finance, has created in the country.

"In this present age when Nigeria is implementing agricultural policies to feed its people; Rwanda is developing science…Ghana under this president we are going back to Biblical times, some 2,000 years back to look for Bible quotations when others are going to the scientific world," Pee Yalley criticised.

To him, Akufo-Addo and his cohorts are stealing from Ghanaians in the name of the project.
"Why go into a contingency vault to build a cathedral?" he quizzed.

About 339 million cedis has been withdrawn from the country's Consolidated Fund to finance the cathedral which has over the months irked most Ghanaians due to the opaque nature of the project's funding.

Controversies

Apart from questions of accountability which have been repeatedly raised by the Minority in Parliament, there have also been concerns about the relevance of the project as the country cannot sustain its debts coupled with high inflation.

The questions led to two eminent clergymen and members of the Board of Trustees of the controversial National Cathedral project calling for its immediate suspension.

The two – Archbishop Duncan Williams and Reverend Eastwood Anaba asked for a financial audit to be undertaken before the project could continue.
Earlier in 2022, Bishop Dag Heward-Mills, the founder and leader of the Lighthouse Chapel International resigned secretly from the Board of Trustees of the project.

In the letter sighted by Citi News, Bishop Heward-Mills expressed disappointment at the leadership of the National Cathedral for ignoring concerns he raised in several letters he wrote to them with the recent one being in June 2022 through the Ghana Charismatic Bishops' Conference.

Part of it reads, "I feel that the treatment of the issues I have raised in my several letters has been unfortunate. My letters have been ignored in the past; not attended to for years, and at best addressed flippantly."

"You may recall I have spoken passionately and written extensively about the costs, the design, the location, the fundraising, the mobilization of the churches, and the role of the trustees. These, if heeded, would have made our project more achievable. Generally speaking, my inputs, my opinions, and my letters have been trivialized and set aside."