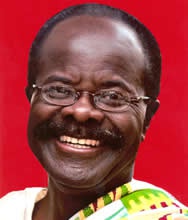 Sun, 1 Jan 2012 Source: GNA
The Leadership of the Convention People's Party (CPP) is asking Dr Papa Kwesi Nduom, the 2008 Presidential Candidate of the party, who announced his resignation from the party last Wednesday, to do so officially.
"The party has written to him and all known individuals who have publicly indicated their departure from the CPP to write to the party formally in line with the provision of the CPP's Constitution," the party said in its first reaction signed by the Chairperson and Leader, Samia Yaba Nkrumah.

It reminded members about provisions of article 10.1(a) of the party constitution, which states that "membership is subject to undivided loyalty to the CPP only, which means one cannot belong to two political parties".

The statement said the CPP acknowledged and accepted in good faith the public declaration by Dr Nduom to part ways with the CPP and to form his own political party. "The Convention People's Party recognises the right to free association as guaranteed by Ghana's 1992 Constitution.

"The public declaration separates Dr Nduom from the historic and global tradition of the CPP and all its supporters."

The statement said the CPP remained committed to its stated ideology and declared aims and objectives including consolidating, deepening and maintaining the independence and sovereignty of the Republic of Ghana; safeguarding and defending the Constitution of Ghana; taking all necessary steps to ensure the political, economic and social progress and stability of Ghana and promoting national reconciliation and unity and offering Ghanaians a government based on Nkrumaist principles of self-determination, social justice and Pan-Africanism.

The others are protecting and enhancing Ghanaian culture, heritage and institutions; and working relentlessly for political and economic unity of Africa and co-operating with intra-African institutions and agencies.
The statement said: "Leadership hereby calls on all members to stand firm and let us all seize this opportunity to re-claim our identity, remove all doubts about our resolve to bring unity and cohesion to our party and the Nkrumaist tradition.

"Let us mobilise with a sense of urgency and work towards reclaiming our rightful place in Ghanaian politics in 2012 and beyond for the benefit of our people."

Dr Nduom on Wednesday quit the CPP and announced his decision to contest the 2012 Presidential election on the ticket of a new political party to be unveiled in two months.

"The NPP (New Patriotic Party) and NDC (National Democratic Congress) may be big established parties, but none of that translates into effective leadership. We wish to ask all voters to make a change by considering the experience and personal attributes we are offering and vote for me to make the difference that they desire in their lives," he said.

He added: "Our goal is to contest the 2012 general election with a positive, progressive difference force not felt in the Fourth Republic."
Source: GNA