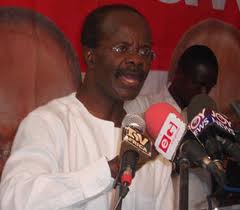 Wed, 16 May 2012 Source: GNA
Dr Paa Kwesi Nduom, Flagbearer of the Progressive People's Party (PPP), on Wednesday visited the Tema Metropolis and the Ashaiman Municipality with a call on the electorate to vote him into power.
Dr Ndoum, who was accompanied by the National Executive Members of the party, reiterated that it was about time that the electorate changed from voting for either the New Patriotic Party (NPP) or the National Democratic Congress (NDC).

He admitted that even though the two political parties have done their part, the greatest work that would ensure that Ghanaians benefitted from all their resources could only be done by the PPP.

At the Tema Fishing Harbour and the Community One Market, he said, despite promises of abolishing pair trawling as well as solving the premix, and outboard motor problems during the 2008 electioneering campaign, nothing beneficiary has been done by the ruling NDC.

He said Ghana needed the right leader to ensure that the people enjoyed good health, free education, and proper roads, among other things.

He said it was regrettable that Ghanaians were being prevented from engaging in galamsay operations whiles foreigners including the Chinese were being allowed to engage in it.

Dr Nduom gave the assurance that the PPP would not engage in politics of insults and the use of intemperate language and that the recent biometric registration exercise was a testimony of the party's resolve not to engage in violence during the December elections.
At Ashaiman, Dr Nduom and his entourage paid a courtesy call on members of the Ashaiman Divisional Council, and toured the market.

At the Divisional Council, he appealed to the traditional leaders to accept Mr Clement Ameevor, the party's candidate for the Ashaiman Constituency, to represent them in Parliament and lobby for social amenities for the traditional area.

Mr. Nii Brew Hammond, National Chairman of the PPP, said the party's slogan 'Awake,' means it is about time Ghanaians awake to work hard and vote for the right leader.

Mr. Hammond added that, political parties are voted into power to help solve the numerous problems facing the people and called on the electorate to change their voting pattern and vote for the PPP.

Nii Dzaase, Dzaasetse of the Ashaiman Divisional Council, bemoaned the inability of politicians to recognize the traditional leaders after winning power.

Nii Dzaase advised Dr Ndoum not to forsake traditional leaders after being voted into power, but should rather consult them frequently in formulating policies.**
Source: GNA