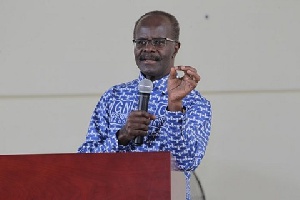 Wed, 25 Apr 2018 Source: Frank Owusu-Ofori
The President and Chairman of Groupe Nduom, Dr. Papa Kwesi Nduom, has given GHC80,000 as seed capital to the first eight (8) students of the Nduom School of Business and Technology (NBS&T) to start and manage a new company to be formed by them.
Speaking during an interaction with the students at the Groupe Nduom Mangement meeting held at the Nduom School of Business and Technology, Elmina, Dr. Nduom said the 80,000ghc is to give the pioneering students a superior unique experience over their peers in other universities.

"Now this money will give you a good start in entrepreneurship. In line with the courses that you are studying here at the university, we would train you so one can be manager of the enterprise, one the Accountant, someone can be the Auditor, and another can do the marketing. Groupe Nduom will set you up and ensure that you turn that GHC 80,000 capital into a profitable venture," he disclosed.

In addition to that Dr Nduom promised to open a GN Bank branch at the campus so the students doing banking and finance can also have direct practical experience.

Internship opportunities and vacation jobs with the over 64 Groupe Nduom companies have all been guaranteed for the pioneering students and indeed all students who enroll with the Nduom School of Business and Technology (NBST).

"We are doing all these so you can have real life practical experience that you can not get anywhere but at the Nduom School of Business and Technology," Dr. Nduom reiterated.
Speaking on behalf of the pioneering students, Derrick Pappoe, an old student of St. Augustine's College, offering a Bachelor of Science in Information & Communication Technology (ICT) at the Nduom School of Business and Technology, thanked Dr. Papa Kwesi Nduom and Groupe Nduom for the kind gesture and all the opportunities being offered them at the University.

"It will give us a head start to change the world at a very young age. We would have hands on practical experience and also not hassle for employment after school."

The Nduom School of Business and Technology is a private tertiary institution owned by Groupe Nduom with the objective of providing quality, relevant and life-long learning education with a strong emphasis on practical experience and skill development.

The institution is affiliated to the University of Cape Coast and have all its programs namely BSc. Information Communication & Technology, BSc. Banking & Finance and BSc. Information Technology Management for Business accredited.
Source: Frank Owusu-Ofori