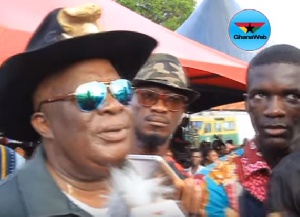 Tue, 10 Oct 2017 Source: The Insight
Maverick politician Kofi Wayo is fuming over recent increases in the price of petroleum products and says that petrol can be sold at GH4.00 (Four Ghana Cedis).
Petrol currently sells at GH22.00 (Twenty Two Ghana Cedis) per gallon, the highest price since independence on March 6, 1957.

Mr. Wayo was speaking on "Good Morning Africa", a magazine programme on Pan African Television. He described frequent increases in the price of petroleum products as highly insensitive.

"How can you pay workers only 20 cents an hour and asked them to pay astronomical prices for petroleum products," he asked.

Mr. Wayo said today Ghanaian workers have to work for two and a half hours to earn enough to buy a newspaper.
He also strongly opposed the privatization of aspects of the work of the Volta River Authority (VRA). Mr. Wayo said it does not make sense for the Government of Ghana to spend the country's resources buying fuel for independent power producers.

"How independent are they when they depend on the government for their fuel supply" he asked.

He claimed that the problem with the Energy Sector is that President Akuffo-Addo has appoints party loyalists rather than experts to run the sector. "If I am given the opportunity I will solve these problems in three months," he claimed.
Source: The Insight