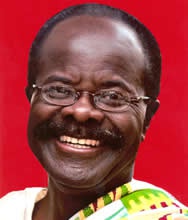 Tue, 7 Sep 2010 Source: Kwesi Nduom
What happened at the Cape Coast Afahye durbar grounds on Saturday, September 4, 2010 must be condemned by everyone with the national interest and the preservation of our traditional values and culture at heart. What happened there is nothing new. It happened at the same grounds in 2008. The President of the Republic of Ghana then was John Agyekum Kufuor. His party people did not see anything wrong with what was done to leaders of opposition parties there then. On Saturday, the President of the Republic was and is currently John Evans Atta Mills of the NDC. And his party people do not see anything wrong with what happened at the durbar grounds on Saturday. The Oguaa Traditional Authorities were there in 2008 and also on Saturday, September 4, 2010. In my view, they did nothing to make fairness and the independence of the custodians of our culture and traditional Ghanaian way of life prevail.

I was there at the Afahye durbar grounds in 2008. There was chaos. I was made to wait at the entrance to the park when it appeared that the then President was making his way there. Even though we had made prior arrangements for proper seating, we had to struggle for a place to sit and our area was overtaken by boisterous supporters of other parties and their "macho men". I complained, at the durbar grounds but no one listened. I saw the commotion that ensued between the security people who accompanied then President Kufuor and was nearly crushed in the process. I was deeply embarrassed. I complained publicly but no one paid any attention to me then. So I resolved to stay away from the durbar of a festival I have loved since my childhood until some sane arrangement is made to accommodate all political party leaders and dignitaries peacefully.


On Saturday, I was in the area and enjoyed the festival from a safe distance with friends and family. I did not go to the durbar grounds and I am glad I was not there to be a witness to what took place there. I will make my donation to the Oguaa Traditional Council this weekend when the noise dies down.


My suggestion in 2008 and now in 2010 is that our Traditional Authorities must not allow the government of the day to dictate what should happen during these festivals to them. Governments come and go. Our traditions must continue. It is the responsibility of the Traditional Authorities to seat ALL dignitaries properly and together using an arrangement that recognizes both the leaders of the party in power, opposition party leaders and business, religious and general society leaders. Once our chiefs and queenmothers give in to the politicians, their integrity suffers. Our authorities should plan better not just to receive our donations but to make everyone welcome and help make our country a united one.


During the 2008 campaign, some prominent chiefs who are celebrated in the country today, made it impossible for me as a Presidential Candidate to pay courtesy calls on them. Others received me with great reluctance and after many obstacles had been placed in my way, gave us such short notice that we could not gather enough leaders from my party to be part of our delegation. It was worse in some communities as we were made aware that we were not welcome there.

Many of the measures taken in the First Republic were to make sure that ethnic or tribal affiliations would be respected but become second to our identity as one people with a common destiny in a nation called Ghana. Our education system helped and so did the CPP Administration's sharing of factories, schools, roads and other social infrastructure. Ghana was for Ghanaians and we were on the road to becoming a proud people where ethnic origin would be a secondary matter. Tribalism has made its way into our body politic in a way that is offensive and dangerous to our survival as a nation and our collective prosperity is put at risk. We are now coupling insane political partisanship with tribalism and putting it on display during our traditional festivals. Some of our chiefs are kneeling in front of the government of the day to beg for development that is their due. In the process, they sometimes become blind to the fact that they should be there for all of their people not just those who happen to be in power.


Our traditional leaders must demonstrate independence from the political class and embrace all to affirm their individual and collective identity. I want to be at the next Oguaa Fetu Afahye, Edina Bakatue, Homowo, Akuapem Odwira, the festivals of the Dagombas and others and feel welcome and proud to be a Ghanaian. I want to be safe in my own country and our Traditional Authorities must make this happen when we visit their towns and villages to celebrate and enjoy their culture and way of life.


Our politicians must also learn that festivals, funerals, weddings and other social gatherings are just that – social gatherings. They must not use these occasions to divide our people. Specifically, the NDC and the NPP must not be allowed to turn our traditional festivals into arenas for divisive political football.


Papa Kwesi Nduom
September 6, 2010

Source: Kwesi Nduom