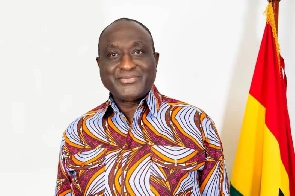 Alan Kyeremanten, a presidential hopeful, believes that some things could have been done differently under the current administration, from which he resigned a week ago to pursue his presidential ambition.
Addressing the nation on Tuesday night to officially declare his intention to run for president, Mr. Kyeremanten said: "The president has laid a strong foundation for the socioeconomic development of our country, although I believe there are things that could have been done differently. My vision is to build a superstructure on this foundation that will bring prosperity to our nation"

According to the former Trade Minister, the  pre-COVID-19 performance of our economy, the flagship programmes including the Free SHS, the One District One Factory (1D1F) Initiative, the Planting for Food and Jobs programme, the Agenda 111 project, and the COVID-19 Response initiatives, are all testimonies of the strong leadership that the President has provided over the last six years.

"In spite of all of the above however, it is an undeniable fact that the combined effect of the COVID-19 Pandemic and the Russia-Ukraine war has stampeded our country into a crisis of unprecedent proportions, with its negative impacts on the economy, on businesses, and on our social lives" he said.
"I have no doubt that the anticipated International Monetary Fund (IMF) Support Package will restore confidence in our economy, and bring it back to the pre-COVID levels," he added.

Touching on downsizing government, Mr. Kyeremanten said under his administration, the architecture of government will be overhauled by consolidating some existing ministries, departments, and agencies.

"This will mean running a lean government structure that will ensure operational efficiency and effectiveness in the delivery of Government services," he explained.