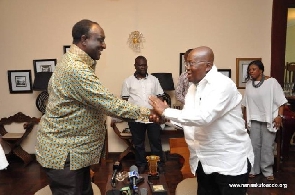 Trade and Industry Minister Alan John Kyerematen's resignation from office has been accepted by President Nana Addo Dankwa Akufo-Addo.
The official notice signalling the president's acceptance of Mr Kyerematen's decision was served to the public today, Friday, January 6, 2023, by the Director of Communications at the Office of the President, Mr Eugene Arhin.

The notice read: "The President of the Republic, Nana Addo Dankwa Akufo-Addo, on Friday, 6th January 2023, accepted the resignation from the office of Mr Alan Kyerematen as Minister for Trade and Industry."

"Mr Kyerematen, on Thursday, 5 January, informed the president personally of his decision to resign, and subsequently submitted his letter of resignation to him".

"President Akufo-Addo thanked Mr Kyerematen for his services to his government and to the country, and wished him well in his future endeavours," the notice added.

In light of Mr Kyerematen's resignation, President Akufo-Addo has asked the Minister for Finance, Mr Ken Ofori-Atta, to act as caretaker minister at the Ministry of Trade and Industry, until a substantive appointment is made.

Mr Alan John Kyerematen was the Trade and Industry Minister since 2017.
He tendered his resignation letter to President Nana Akufo-Addo on Thursday, January 5, 2023.

Mr Kyerematen's resignation is speculated to be in connection with his desire to run for the flagbearer slot of the New Patriotic Party (NPP) ahead of the 2024 general elections.

Mr Kyerematen has been eyeing the NPP flagbearer slot since 2007.

He lost the position in 2010 and 2014 to President Akufo-Addo.

Mr Kyerematen is a former Ambassador to the US, UN Policy Advisor, a Lawyer and a Senior Corporate Executive.