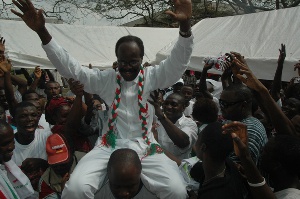 Thu, 20 Aug 2009 Source: The Ghanaian Journal
Third Force in Ghana Politics Now - Dr. Nduom
The Convention People's Party 2008 Presidential Candidate, Dr. Paa Kwesi Nduom has re-echoed the urgency for Ghanaians to think through an alternative political movement aside the National Democratic Congress (NDC) or the New Patriotic Party (NPP).

"The message from Akwatia is a simple one. Ghana needs a Third Force that is a peaceful, purposeful, prosperity-for"the-masses-driven alternative to bring the change we need to this country and her people.

In a press release copied to theghanaianjournal.comDr. Nduom stated that the social injustices meted out to Ghanaians in the country is alarming while leaders turn blind eye over them.

"Over the past three weeks, the country has been subjected to threats, insults, violence, intimidation, etc. by both NDC and NPP activists. Sometimes, it seemed as if there were no party people in charge. Nothing was heard from the leadership of those two parties and the Administration to calm the fears of our people. A lot of money we do not have was spent to provide heavy security from the army and police. The NDC and the NPP spent a lot of money chasing after the few votes on offer. The airwaves were flooded with activists of the two parties chewing and spitting threats and accusations at each other. All this over what? An election only one side, the NPP had a realistic chance to win. An election involving only six polling stations out of nearly 90 should not have attracted such attention, money and heat".

Continuing on his reaction to the Akwatia re-run, he said the election had very little at stake except the egos of a few politicians, which cost Ghanaians lots of anxiety and missed opportunities. "Those of us who had moved on after last year's elections to get back to business and the task of developing our country could not work in peace".
Considering the harsh economic challenges facing the country, he reiterated that government seems to be doing less to raise the hopes and aspirations of Ghanaians as promised during the elections. He was not enthused at how foreign business cheats locals with government looking on unconcerned.

"Foreign business interests are cheating our workers and they dare because we would rather have them here than Ghanaians we think could support our political opponents. The banking sector refused more loans to the Ghanaian private sector and no one took notice. The private sector is under stress but no one is talking. We nearly dealt a big blow to the domestic textile industry and our tailors and seamstresses and only a vigilant newspaper came to our rescue. The public sector debt is rising every day and it really appears invisible – it is not posted anywhere the public can see or know what is going on and the media or the analyst on radio or television don't care or don't know or both. The fishermen and their women became poorer but the pre-mix matter went away even though the foreign fishing trawlers are causing worse damage to the livelihood of coastal communities".

The release posed lots of questions as to why meetings were held in Europe, America and Asia to divide and share Ghana's oil assets, without any Ghanaian knowing about it. Young doctors threatening go-slow action that may spread to other sectors if care is not taken. School teachers and parents wondering what happens to their children as we go from 4 year to 3 year high school and very little practical work being done to provide explanations.

He restated that Ghana now needs an alternative political movement, a Third Force to – yes – force everyone to pay attention to the real problems and concerns of the people. "There is hunger, thirst, unemployment, high utility bills and low quality education. The contractors are not getting paid, so very little infrastructure work is going on. These problems can be solved. But that will not happen when we pay more attention to gaining political advantage than dealing with the problems facing the people".

"Yes, it is the politics of keeping or wanting power that is the reason why after all the best efforts of the NDC and the NPP we are still where we are! Akwatia says, it is time for a Third Force!
Source: The Ghanaian Journal