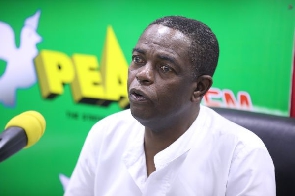 Veteran journalist Kwesi Pratt Jnr, has raised concerns over Akufo-Addo's comments suggesting that prayers and divine intervention are the solutions to the challenges the country is currently facing.
According to him, the president; Akufo-Addo, has no business being at the Flagstaff house if that is the case because it will be better for those who speak to God regularly to occupy Flagstaff house.

He further stated that he is shocked the comment is coming from Akufo-Addo as he has never known the president to be one who exhibits such traits.

Speaking on Good Morning Ghana, he said;

"…I have never known him like this, there is a new Nana Addo Dankwa Akufo-Addo, brand new Akufo-Addo. I never for one moment thought a day will come when Akufo-Addo will say publicly that all we need to do is to pray for out problems to go away and that the solutions to national problems like debt overhands and so on is divine interventions. I'm hearing a new Akufo-Addo."
He said if prayer is the solution, then Akufo-Addo should vacate his for well known men of God like Archbishop Duncan William, Mensah Otabil and others to take over the Flagstaff House.

"The change in him is so dramatic and so phenomenal that it makes me worry. Let's accept this is his current position, if this is his current position what is he doing in the Flagstaff House, if the solution to the national problem is divine intervention, then he is not qualified to be there. Because, when it comes to divine intervention, I don't think he has the gravities of archbishop Palmer, I don't think he has the credentials of Duncan William or Mensah Otabil, he should vacate the Flagstaff House for those who are in telephone with God every day," he said in the show.

NYA/WA