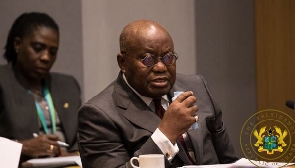 A political science lecturer at the University of Professional Studies – Accra (UPSA) Nii Amartei Amartey has advised President Akufo-Addo not to replace Ministers who resign from his government.
The lecturer's comment is on the back of the Minister of Trade and Industry, Alan Kyerematen resigning from the current administration.

Sources close to the Minister said he tendered his resignation letter to President Nana Addo Dankwa Akufo-Addo on Thursday, January 5, 2023.

It is believed the decision by Kyerematen is to allow him to focus on his presidential ambition.

Speaking on the Morning Starr with Francis Abban Friday, January 6, 2023, Amartey stated that President Akufo-Addo should use the resignation of his appointees to down-size his government.

According to him, Ghanaians are saddled with the huge size of the current administration adding that appointees resigning to pursue other ambitions must not be replaced.
"Already we are calling for a cut in the bloated government of Nana Akufo-Addo. So I wish nobody is brought upon to take over. He will have worked with the technocrat and with a plan for the whole term. So the job will certainly continue with or without a minister.

"There is a deputy minister there he could take up the job and then could be assisted by the technocrat. I really don't want to support the idea of an additional head or person being added to the Akufo-Addo government, honestly. The deputy minister can take over but I think all deputies must be scrapped because of obvious reasons that we are crying over affairs," Amartey stated.

He continued: "Remember we are calling for half of the government to go. I wish many more will resign going into that contest. So that they are not replaced so that we will have the best cut and then we will have our development from what salaries they might have walked away with."

The Political science lecturer further indicated that he will not be surprised if other Ministers resign from the Akufo-Addo government ahead of their party's presidential primaries.