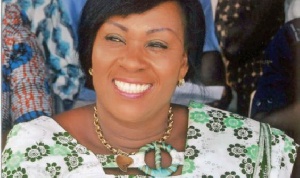 Minister for Special Initiatives, Mavis Hawa Koomson has disclosed that government is ready to honour one of its pledges made to Ghanaians in the lead up to the 2016 general elections, which is the allocation of $1 million per constituency.
  Moreover, as explained by Mrs Koomson, 70 per cent of the $1 million would be spent on government's priority projects such as the "One district-one factory, one village one dam, warehouses for planting for food and jobs among others. It is our fervent hope that this money would not be misused as witnessed in the previous Mahama-led NDC government.

Aware that Ghanaians voted massively for the New Patriotic Party because they had hope and believed that the NPP would be the best to salvage the ailing economy under former President John Dramani Mahama, we urge that those who would be put in charge of the funds to do due diligence by putting the interest of the country first and not to think the money is meant for party foot soldiers or to aid their parochial interests.

It is our conviction that if these funds are properly utilized, it would help create opportunities for individuals to contribute their quota to the development of their constituencies, which in the end, develops the country as a whole.

As pointed out by President Nana Addo Dankwa Akufo-Addo, the 'one District one Dam' project would not only boost farm produce, but  encourage a chunk of the youth into agriculture, thereby making the sector attractive.

The mere fact that President Nana Akufo-Addo had assured that he would put the youth at the centre of agriculture commercialization in the country, is enough to tell Ghanaians that he is a generational thinker.
Moreover, we urge the youth to take advantage of the policies that would be rolled out by the Akufo-Addo government and not sit on the fence.

Since President Nana Akufo-Addo and his competent team of ministers have decided to grow the national economy and create jobs, all that Ghanaians need to do is to support the government and help make all the policies bear fruition to influence lives.

These measures are hinged on moving the economy from one based on taxation to production because prior to the coming into office of the Akufo-Addo government, the burden of taxation on Ghanaian companies were unreasonable and unnecessary, which was almost punitive and  completely disincentive for both investment and production.

Gladly, investor confidence in Ghana has increased and the results have started manifesting. President Nana Akufo-Addo means well for Ghanaians and the next four years would see the nation attaining greater heights.