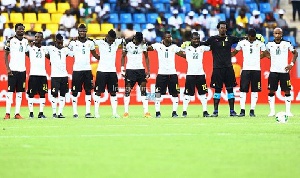 Wed, 8 Feb 2017 Source: Nana Yaw Kesse
Ghana once again faltered in its quest to win a 5th AFCON trophy in 35 years. These are 10 key issues I observed from the abortive adventure which I believe can be part of critical success factors for the next AFCON.
1. Men of Character – In times past Ghana had men of character who could step up and become game changers. The contribution of the legendary Abedi Pele is well documented but during the Abedi era, Ghana had players like Prince Opoku-Polley who could pop up and nip that crucial goal in critical times. In recent times we could talk about the likes of Michael Essien, Sulley Muntari, Laryea Kingston who were both combative in midfield and game changers.

2. Goal- scoring midfielders – allied to point 1 is the issue of goal scoring midfielders. In the recent past, Ghana had goal scoring midfielders like Sulley Muntari, Michael Essien, Laryea Kingston, Kelvin Prince Boateng, C.K Akunnor who could all pop up and score cracking goals from midfield positions. Currently, only Dede Ayew offers a goal scoring threat from midfield but he has not been traditionally known to score explosive goals from outside the box. Wakaso offers that potential but he has not been able to do that on consistent basis and his long range drives were completely missing.

3. Lack of arrow head & over-reliance on Asamoah Gyan - Ghana's current team is overly reliant on Captain Asamoah Gyan. Ghana seems less potent without his predatory instincts. His presence alone draws the attention of two or more defenders which in turn gives other players the opportunity to cause havoc. Jordan Ayew has potential but he is not a typical arrow-head striker. His strength lies in latching onto the ball from midfield positions and attacking defenders. He does not offer the aerial threat and "nuisance" skill of a penalty-box striker like Asamoah Gyan. Currently, Bernard Tekpetey offers that potential but he needs to be more clinical upfront.

4. Poor wing play: Our wing play was poor. Atsu offered some threats on the right flank but his crosses was ineffectual and his play was predictable. In the past, Ghana had influential attacking left and right backs who could overlap and deliver some telling crosses. Afful who was once an effective overlapping right back is now a pale shadow of himself. It's a pity Ghana left a utility player like Jeffrey Schlupp out of the squad.

5. Inability to utilize crosses and free-kicks – One of Jordan's strengths is his ability to deliver incisive crosses and corner kicks and he demonstrated it severally but only Gyan was able to meet any of them with any precision. Dede Ayew who scored many headers for Swansea last season was unusually missing. It was obvious that he was unfit for the tournament after being on the sidelines for many months due to injury. In modern football, goal scoring opportunities are usually at a premium and what makes the difference is a team's ability to nick a goal from seemingly innocuous free kicks and corner kicks.
6. Defensive frailties (free-kicks) – It's ironic that whilst we are unable to take advantage of free kicks and corner kicks we conceded several goals from free-kick positions. The most avoidable was against Cameroon where miscommunication between John Boye and Razak Braimah resulted in a poor clearance which left the goalkeeper exposed. We need to develop a more resilient defensive strategy against free-kicks.

7. The influential number "10" – Many of the teams that excelled at AFCON 2017 had that influential number 10 or number-10 like players who could pull some magic and make things happen. Burkina had the Traore brothers, Egypt had the cunning Mohammed Salah, and Cameroon had the audacious Vincent Aboubacar who scored that breathtaking winning goal against Egypt. Dede Ayew was unfit and Atsu was too wasteful and predictable.

8. Jordan Ayew shows genuine potential: In my opinion, Jordan Ayew was one of Ghana's best players at this year's AFCON and the incessant criticism targeted at him is grossly unfair. He gave the most potential assists, scored a very good goal in a tough game and came close severally with some audacious runs and shots. Jordan's natural instinct is to run at defenders and shoot and he needs support to make that instinct a killer one. We need to limit the unnecessary criticisms and encourage him to express himself more on the pitch. Great players like Ronaldo and Messi have massive self-belief and we need to support Jordan to build that unwavering self-belief instead of consistently chipping at his confidence with heavy doses of unwarranted criticisms. If he gets the needed support, he will be Ghana's best player in 2 years.

9. Goal keeping errors – Razak Briamah is a good goalkeeper. However, he was clearly at fault for the goal against Egypt. The basic rule is that during free-kicks you cover one side of the post and allow the wall to cover the other side. He could also have done better with the goal he conceded against DR Congo. However, he was not at fault for any of the goals we conceded against Cameroon in the semi-final.

10. Lack of telepathic play: Ghana lacked that telepathic play we are traditionally known for. Admittedly, it has been missing for a while but it seems to be getting worse. Teams like Egypt, Burkina Faso and Cameroon played some beautiful interpositional football that was a sight to behold. A typical example is Egypt's goal against Cameroon which was well orchestrated and involved 4 sublime passes. Our play looked disjointed and we couldn't muster any serious shots on targets from distance.
Nana Yaw Kesse is an avid blogger writes on marketing & corporate strategy, sports and other social issues focused on Ghana's corporate and socio-political environment.

Contact:

Website: nanayawkesse.com

Twitter & Instagram: @nykesse

Facebook: nanayawkessegh
Source: Nana Yaw Kesse