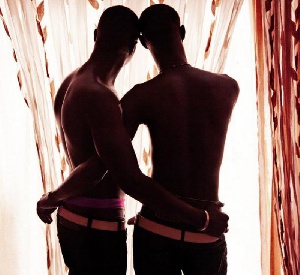 Ghana's Senior High Schools are generally established on the basis of the boarding system.
Boarding schools bring together Ghanaian boys and girls from various religious, socio-economic and cultural backgrounds. This exposes the students to various experiences and conditions which influences who they become in the future as individuals either negatively or positively.

The world has reached a dispensation where the right of the Lesbian, Gay, Bisexual and Transgender (LGBT) persons are being promoted aggressively on a global scale.

Just a few months ago, 8 Ghanaians in Canada took an initiative to collect signatures in order to petition the Canadian government to put pressure on Ghana to decriminalize same-sex practice.

The country through legislative and moral means however, have to some extent shown visibly that it will resist external pressures to impose legalising same-sex practices. However, there is an emerging trend that could absolutely defeat Ghana's quest in making sure that same-sex practice is not normalized in the country.

Over the past decade or more there has been news items featuring stories of homosexual students caught in sexual activities in various Senior High Schools across the country.
In 2014, an old student of OLA Girls SHS at Kenyasi in the Asutifi North District of the Brong-Ahafo Region told the whole nation that lesbianism has taken roots in the school. She claimed that the practice has become a norm in the school as seniors coerce and harass juniors into the act.

Then in February 2017, two male students in Mawuli Senior High School in the Volta Region were reported to have been caught while having canal knowledge of each other. According to some students of the school who spoke to DAILY Guide, that was not the first time and would probably not be the last time students engage in homosexuality in the school.

The increasing spate on homosexuality in this instance cannot be squarely ascribed to globalization. Exposure of students to their mates with same-sex sexual orientation significantly account for this phenomenon.

There are numerous instances of students engaging in homosexual activities in Senior High Schools across the country. Some have been done without anyone finding out while others have been exposed.

This act still takes place presently and will continue in the future unabatedly unless a drastic measure is put in place.
This trend being witnessed among Senior High School students is a symptom of a much greater social disease that has plagued the nation.

It is on record that some prominent celebrities have said that they have friends who are homosexuals and that they don't see anything wrong with it. This revelation suggests that some prominent politicians, business men, religious figures, civil servants and influential personalities in the country are either homosexuals or have friends who are homosexuals. This put at risk the country's effort to use legislative and moral means to stop this social poison.

The underlining factor that accounts for the breeding of homosexuals in boarding schools can be explained using Prison sexuality. Prisoners are separated by gender, and most sexual activity is with a same-sex partner. This leads to a high incidence rate of homosexuality in prisons. When it comes to the boarding school systems, students are separated along gender lines and the absence of sexualized environment cannot be guaranteed by authorities. Ultimately this leads to students either being forced or predisposed to this sexual deviant behaviour. Some students would want to stop but due to the environment, they would not be able to.

Going forward as a nation, we must understand that using religious and moral appeal would not stop this social canker. The nation must take a serious decision by converting all boarding schools into day schools and go further by permanently scrapping the boarding school system. That would serve as a mitigating factor in arresting this alarming development.