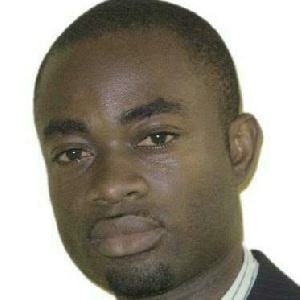 Literacy is a bridge from misery to hope. It is a tool for daily life in modern society. It is a bulwark against poverty, and a building block of development, an essential complement to investments in roads, dams, clinics and factories.
Developing strong literacy skills is critical to a child's success in early learning and beyond.

In this 21st century, good communication skills are very vital in every human endeavour, so it is very good for our Ghanaian school pupils to develop the habit of listening, speaking, reading and writing at a tender age.

The fact remains that, a child can only achieve competency in essential school readiness skills such as language and early literacy, when he or she has begun to experience and master all the domains of development such as cognitive, social, emotional, physical and as well as non-cognitive areas such as motivation to read and persistence in learning.

As far as Education is concerned, reading remains the key to learning so it is therefore worrying and sad that, majority of our Ghanaian school pupils do not benefit from lessons taught at school because they don't understand English.

It is however, academically flawed for the Dean of the Faculty of Arts and Sciences at Ashesi University, Prof. Stephen Adei to have recommended the dismissal of all Directors of Education and teachers under the Ghana Education Service as a major step towards improving the quality education at the basic level.

Where from this bogus assertion? Sacking these important stakeholders as a major step towards improving education at the basic level? l am very shock this is coming from a Professor who should know better the real problems and challenges confronting the education sector in our beloved nation.

In as much as, he is entitled to his opinion, to me the fact remains that, he is economic with the truth on the real things to be done in addressing his displeasure on the matter under consideration.

Surprisingly Prof. Adei, has been in this country for ages and is it now he has realized that, the Directors of Education who number over 400 according to him, continue to supervise a collapsing educational system at the basic level?
Even if his assertion is true then it rather means it is because the Directors are supervising Education that is why it has not collapsed and their absence will rather bring a total collapse in few seconds.

Prof. are you saying, you are not aware of the numerous duties and responsibilities of these directors?

Has Prof. taken his time as a good a citizen of this country to find out the challenges confronting the work of these directors in the discharge of their duties?

Prof. are you aware that on many occasions common fuel for these directors to enable them embarked on a lot of supervision within their respective jurisdictions they don't get?

Who must provide the needed resources for the Education Offices to enable them function more than expected?

Prof. are you aware most Education Offices across the country lack the necessary logistics to function?

What have you done about it as a concerned citizen to make sure government provides all their necessities to make their work very smooth?

Saying that, as a nation we are going to pay a heavy price for what we have done to basic education.
Oh yes on that score l do agree with him but, it is not about just talking on Radio and TV to downplay the hard work of others but it is about coming on board and contributing your quota in diverse ways to find solutions to the problems that confronts us as a country in all sectors and that must be the Ghanaian attitude.

Prof. asking the question whether teachers are willing to do what they are paid to do?l will say a big Yes, teachers are doing what they are paid to do though there may be some inefficiencies and that as we speak government even owes teachers their salary arrears for almost 3 years now and the teachers continue to suffer hard economic conditions but he has not seen the need to tell government to pay the teachers their arrears right?

This to me is pure mischief and hypocrisy and does not represent fair assessment of the issues.

Why didn't Prof. even talked about provision of educational materials to aid the work of teachers in order to enhance teaching and learning?

I think Prof. should leave Accra and go to the rural communities in the country to see the conditions in our schools so as to speak on the realities and not just sitting on radio to make statements just because of freedom of speech.

On the point that, about 66% of pupils who finish basic education in Ghana lack the literacy necessary for coping with everyday situations which he noted, sharply contrasts with the situation in neighbouring countries –Togo and Cote d'Ivoire and that, child who goes to school for 3-4 years in Togo and Ivory Coast speaks French and writes French but our Ghanaian school pupils finish Junior High School and 66%of them are functionally illiterate and we sit down there and we have Ministry of Education and we have 400 Directors of Education in Ghana and they are only turning our children into criminals.

As a literacy advocate and someone who is interested in seeing reading becomes a Ghanaian culture, l will even say the percentage he quoted may even be higher but that notwithstanding Prof. Adei could not even mentioned a single thing he thinks Togo and Cote D'ivoire are doing that enables their school kids within the ages he alluded too are able to read so that we could do same here in Ghana, so this makes his comparison vague to me.

I expected the learned Professor to offer ways he thinks we could all used in promoting literacy among our Ghanaian school pupils and not just mere criticism without offering practical solutions and l sincerely believe that is not the way to go.
He should be reminded that, when Tetteh Quarshie went to Fernando Po and saw cocoa there he brought some to Ghana because he realized it was a good thing so l expected Prof. to have done same in the case of Togo and Cote D'ivoire examples.

Surprisingly to me again, Prof. did not mentioned that, they the Professor holders etc. must come and teach at Kindergarten which is the foundation of the education ladder so as to set a solid foundation.

Has he forgotten that, becoming a life time reader depends on developing a very deep love for reading at a tender age? So the Kindergarten education is very key? Those of them with reach knowledge should come and teach at the Kindergarten and do some magic for this country.

Prof. Adei who jointly runs the Ghana Christian High School with his wife should come out and tell us whether all pupils in their school can read and if yes tell us the approach they are using to teach reading so that we can all learn from them.

Prof Adei should understand from today that, pupils are not able to read because we are not using the right approach to teach reading in this country.

Reading must be taught using Phonics but in Ghana we teach reading by Sight which is the problem. That is why in European countries a child of two years can read but in our KG Syllabus it was stated the child should be introduced to formal reading at the age of 6 yet they complete even SHS and cannot read.

Making sure our teachers across the country are trained to have sound knowledge in Phonics should be the way forward.

How do we even promote reading in our various schools when majority of our schools do not have libraries and for that matter enough reading materials?
I think the Schools Library and Information Directorate under the National Teaching Council has failed this country over the decades on issues regarding their mandate in making sure schools have well equipped libraries.

To conclude, Prof. Adei should understand that, when it comes to issues concerning literacy promoting among pupils a lot of stakeholders such as Policy makers, Government Appointees, Doctors, Nurses, Parents, Pastors, Sunday School Teachers, Media Houses, Chiefs, Assembly Members, Library Services, Imams, Students etc. all have a role to play and not only teachers, so it is a very big misconception for anyone to think it is all about teachers.

Let me use this opportune moment to say congrats to all NGOs promoting reading among our school pupils in Ghana and especially the facilitators of Read Ghana Foundation.

Long Live Ghana

Long Live Education

Long Live Literacy NGOs

0200255295