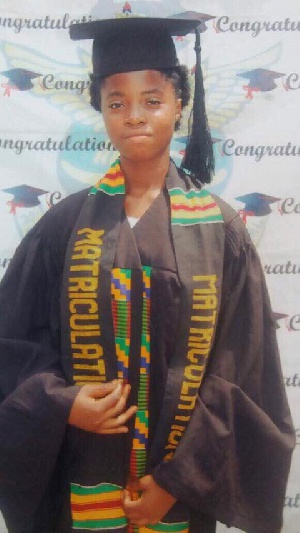 When the news broke out that a juvenile of 13 years has been admitted into the Kwame Nkrumah University of Science and Technology to study Mathematics, many Ghanaians kept thinking and wondering whether the fellow is one of our citizens.
Many would not have been bothered if it was a foreigner because it is presumed that they have in their DNA the love for adventure. But when the name of the girl at the center of the news became public, many started wondering how she could have made it that far at that tender age, knowing that the GES accepted convention school starting age is three (3) years.

The father of the girl was obviously excited and proud of his daughter's achievement and the attention the family has enjoyed since the news became public. He explained further the methodology he employed in creating the 'examination passing machine'. Subsequently, the second Lady Madam Samira Bawumia also visited the girl and offered her full scholarship in her university education. It was also reported that the Minister of State in charge of Tertiary Education Professor Kwesi Yankah called for support for the teenager and presented her with a laptop.

Obviously anyone who makes the news headline in this fashion should be excited and feel very proud. The father of the girl drawing inspiration from the feedback of his daughter's achievement ever since the news broke out was heard saying his younger son would break the sister's record and that he is doing everything possible to ensure the boy starts university at age eleven (11 years).

Clearly, the father of these children needs help and must be counseled. How are your teenage children going to fit among people who would see them as kids? Just imagine how her room mates would relate to her and how she would respond.

Formal education is defined as a systematic and conscious way of learning. "Systematic" here means moving from one stage to the other. As formal education is structured, each stage is an upgrade of the previous.

Once one is made to skip a stage, a whole stage of learning experience which will not only upgrade the knowledge base, but also prepare the student for the next stage of formal education is missed. This precedence can easily culminate in a society of half baked literates. This approach can lead to instant gratification where one will pass out academically in terms of qualification, but when subjected to the stress of knowledge application and utilization may not be equal to the task.
Formal education goes beyond examination passing machinery. It is a vehicle for social integration and personality development. This is because among her peers, the student feels equal in terms of age, maturity level, and even the stature.

It therefore becomes a difficulty for a student to effectively participate in this stage with peers of a different category in terms of maturity, age or stature. This situation can further result in personality and social disorder for the child as she is now separated from her natural peers for imposed peers. This can easily result in the child growing with a mis-fit personality, since she will miss the opportunity of going through her education with the peers she naturally belongs to.

Education is not about passing exams, it is also about molding and preparing one to fit in life. Entering and completing the university ahead of your peers does not guarantee success in life and many who made it and influenced this world were not necessarily men and women with many academic credentials. But one cannot blame this family, it is the impaired institution tasked to administer our educational system to ensure sanity that needs to be blamed.

Now that the politicians are making capital out of this girl's case, many are going to learn from it and very soon it shall become the order of the day. The silence of GES is clear and inherent in that silence is that there is nothing wrong with a 13-year-old girl to be admitted into University.

Now that many more families are going to enter into the challenge, the question that begs for an answer is how would such competition accrued to our benefit as a nation? The GES should come clear on the school going age so that right questions can be asked when one deviates from the acceptable norm.

Now that Ruth Ama Gyan-Darkwah's record would be broken by the younger brother we should not be surprised when a nine-year-old child also gains admission to our universities. GES should sit up before the chaos that is emerging becomes uncontrollable.