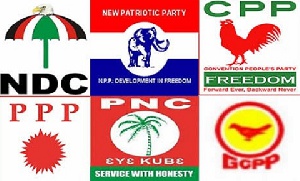 No single day will ever pass peacefully without Ghanaians "eating up" politics on televisions, on radios, on internets, and at workplaces, public places and at homes. Politics has become a daily delicacy for many Ghanaians, both the rich and the poor, between the ruling party and the dominant opposition party, and there is politics in many aspects of our society.
And the cunning hypocrisy in it has left our motherland in disarray. The partisans promote propaganda. Stop the blame game!

We should better talk about Sanitation, Tree Planting and Agriculture, Creativity, Noise Reduction and honesty. Planting for food and jobs has already yielded a positive result. There is food everywhere in Ghana now. Thanks to the initiative of His Excellency, Nana Addo Dankwa Akufo Addo, the President of the Republic of Ghana. These are the kind of things we need. Empty political talks, insults and assaults do not put food on the table and do not help National Development.

Truthfulness should also be reinforced as one of our core values aside hospitality. We do so well in talking politics and neglecting the most important aspects of our lives. This reminds me of one of the things Our Lord Jesus Christ said to the Pharisees and the teachers of the law. "…you hypocrites! You give a tenth of your spices.... But you have neglected the more important matters of the law—justice, mercy and faithfulness..." Matt 23: 23.

How is justice carried out from our Judicial Systems? Do our Laws really bite the looters compared to the poor man who stole a goat or a bag of cassava? What about the hardened criminals who commit cruelty in our societies? A News article that was trending on Modern Ghana and Ghanaweb said "An Accra High Court has thrown into jail…the Stanbic Bank worker, Martha Amakye, who duped clients to the tune of GHC1.8 million.... has been jailed 8 years by court."

In another News on Ghanaweb, a boy was jailed 10years for helping his friend to steal a wallet containing GHS 200. "The Ashaiman District Court has sentenced an 18-year-old driver's mate to 10 years' imprisonment with hard labour for helping his pal to steal a wallet containing … GH¢200 from Isaac Boabeng. The court, presided over by Gabriel Mate-Teye …Gameli Tofah pleaded guilty ... The prosecutor, Inspector Nunoo-Mensah, told the court that on October 27, 2018…"

If a theft of GHS 200 is 10years. How many years should have been given to the one who stole GHS 1,8million? Ghanaians should never think that Mr. Alfred Wayome is going to be jailed 200years if found guilty. Long prison sentences are for meagre thefts or poor men. It would be better for our institutions to work properly than we spend so much effort and money in talking politics.
References:

Obed Boafo (February 18, 2016) The Bane of Ghana's Politics - Ultimate FM, Picture. [Online] Retrieved from Google Images. Story from

http://ultimatefmonline.com/2016/02/18/the-bane-of-ghanas-politics/

[Accessed 24.12.2018]

Modern Ghana.com, Dec 20, 2018, Stanbic Bank Mafia, Jailed 8years by an Accra High Court. [Online] Retrieved from

https://www.modernghana.com/news/905455/stanbic-bank-mafia-who-duped-clients-ghc18-million-jailed.html
[Accessed 22.12.2018].

Crime and Punishment, Ghanaweb, Saturday, 24 November 2018. Driver's mate jailed 10years for stealing. [Online] Retrieved from

https://www.ghanaweb.com/GhanaHomePage/crime/Driver-s-mate-jailed-10-years-for-stealing-703379

[Accessed 22.12.2018].