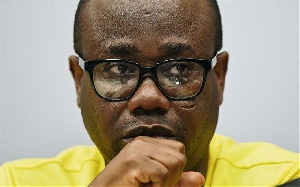 Former FIFA Council member Kwesi Nyantakyi was supposed to celebrate his 13-year tenure as President of the Ghana Football Association this month but he is currently banned for life from all football-related activities by FIFA-the global soccer body.
Nyantakyi, then aged 38, triumphantly won election to be GFA President on 30 December 2005 to become the youngest FA President in Ghana's history. But despite chalking a number of successes, his administration was equally dogged by a series of corruption scandals. Under his presidency, Ghana qualified for the 2006 FIFA World Cup, the first for the country and the Ghana U-20 Male's team became the first African side to win the FIFA U-20 World Cup.

But this year, 2018, would be the end of his football career after investigative journalist Anas Aremeyaw Anas caught him on hidden camera in his breath-taking Number 12 video shown to the Ghanaian public for the first time on June 6th in Accra and repeated in other parts of the country on later dates.

FIFA reacted by provisionally suspending him for a period of 90 days which was extended by 45 more days before finally handing a lifetime ban against the Wa All Stars FC owner on October 30 for violating the FIFA code of ethics as he was seen on camera accepting cash gifts (a disputed $65 000) from a Tiger Eye Pi undercover journalists who masqueraded as Arab businessmen.

The corruption scandals also reached Nyantakyi's fellow GFA executive committee members. Northern regional Football Association chairman Abdulai Alhassan (resigned following the scandal) – a former footballer – was the chief accomplice of the GFA boss who assisted him with many dishonest ideas about how to shortchange the association when they negotiated a $15 million sponsorship deal for the Ghana Premier League with the undercover investors. Eddie Doku, the Greater Accra Regional Football Association chairman took bribe money to help a player receive a national team call-up and Eastern regional Football Association boss A.A Lawal was implicated in the Anas Number 12 video.
Indeed Mr. Nyantakyi had planned to step down in 2019 as he publicly said several times on different platforms he was not going to seek re-election but as soon as his Number 2 George Afriyie publicly declared his intention to contest for the highest seat of Ghana football, the original plan of the GFA President seemed to have changed following calls by other executive members like Kojo Yankah for him to continue.

Afriyie was removed as vice-President of the association after he reportedly sent a WhatsApp message to his boss calling him a "greedy man" and it is this sequence of events that resulted in the lack of President and vice for the GFA until FIFA appointed the normalisation committee in September.

Nyantakyi was widely expected to announce he will be seeking GFA presidential re-election in 2019 against his initial promise but as the public was waiting, Anas Aremeyaw Anas and his team were also plotting to bring him down.

It was such a crazy year for Kwesi Nyantakyi and Ghana football.