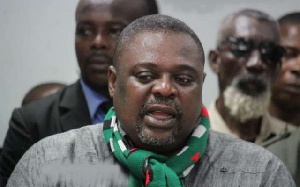 There is no gain saying the National Democratic Congress (NDC) is a mass political party that has a massive following.
In a quarter of a century, the NDC has won four out of the seven general elections that have been held under the Fourth Republican dispensation.

The party, in 25 years, has had three leaders namely Presidents Jerry John Rawlings, John Evans Atta Mills and John Dramani Mahama. The party is grateful to all of them for flying high the flag of the NDC.

Salutes fallen comrades

As the party salutes the fallen comrades, a special salute goes to the late President John Evans Atta Mills as the first Leader of the NDC in opposition during 2001-2008 and the struggles he went through to win back power for the party in 2009.

May the souls of the likes of A.A Munufie, Justice D.F. Annan, Professor Kofi Nyidevu Awoonor, Harry Sawyer, Dr Mrs Mary Grant, Kojo Maama Adam, J.H. Owusu Acheampong, Clend Sowu and all departed comrades continue to rest in perfect peace!

It will be remiss on our part if we do not mention the likes of Captain Kojo Tsikata, Tsatsu Tsikata, Ato Awhoi, Professor Kwamena Awhoi, Kofi Totobi Quakyi, Commodore Steve Obimpeh, Dan Abodakpi, Cecilia Johnson, Daniel Ohene Agyekum, Kwame Peprah, Naval Captain Butah and others who continue to keep the flame of the NDC alight.
Activities

The four-day event as part of activities for the 25 years celebration was organised with tact and finesse and we must doff our hat for the Founder of the NDC, Jerry John Rawlings, for participating in two major events – the panel discussion at the party headquarters and the mammoth rally at Ashaiman.

The founder must be congratulated on participating actively in the milestone Silver Jubilee celebrations and for accepting the feelings of the party and not "Booming".

He should be commended for disappointing the New Patriotic Party (NPP) and some enemy press houses who were waiting to hear the founder make boom speeches. This time around, the founder decided to allow the NDC to seize the moment and enjoy the shine.

The profound words of wisdom that Alhaji Mahama Iddrisu dropped in his brief presentation was heartwarming. According to Alhaji Iddrisu, the human being can operate without legs and hands, but cannot operate without a head.

In other words, Alhaji was telling us that the NDC has a head (leaders and elders) and any attempt to cut off the head will lead to the death of the party.
It was also very educative listening to Alhaji Huudu Yahaya, the first General Secretary of the NDC tell a lucid story of the formation of the party and how far we have come.

Panel discussion

From all the presentations at the panel discussion and all the speeches at the Ashaiman rally, there is no gain saying the fact that the NDC can only move forward by mirroring into the past.

''We have to mirror into the past; give respect where it is due; and pick up the positive pieces that we have thrown away. The current National Executive Committee is working with alacrity to set up the PARTY SCHOOL in order to have a melting pot to shape the raw energies of the teeming youth who continue to jump aboard the fast-moving train of the NDC''.

There is no way we can throw away the old guards and the solid past of the NDC and hope to build a solid future.

Strong tradition
When the founder said at the Ashaiman rally that the NDC had a strong tradition and the capacity to win one election after another, he knew what he was talking about.

The best way forward is not for any group within the party to think that they can rubbish the history of the NDC and also rubbish the relevance of the old guards.

The renaissance and re-imaging of the NDC must be led by thoroughbred and committed 'soldiers' who understand the party's "Art of War" in order to execute the battle ahead with military precision.

As a party born out of a revolution which resulted in a class struggle that sought to give "power to the people" as well as spread egalitarianism, NEVER AGAIN should the party be hijacked by persons who owe no allegiance to the tradition and philosophy of the NDC.

As Comrade Alban Bagbin, the Second Deputy Speaker of Parliament, said during his delivery at the panel discussion that "we must not allow strangers into our bedroom" because it does not make any sense to allow strangers into our bedroom – especially when the strangers kicked us out of the bed and we ended up sleeping on the bare floor.

Communication policy
Since the party now has a solid communications policy that will guide all activities going into the future, all the nebulous splinter groups that operated outside the party's structures will no longer have room to operate.

As the party begins its restructuring right from the base, it is expected that true loyalists will move to their branches and participate in the reorganisation.

The task ahead of the NDC by way of restructuring and positioning itself for victory in 2020 is very achievable and doable but as the founder told us at the Ashaiman rally, "… Unity must be pursued with sincerity and integrity" .

To quote the founder again; "Unity will only come if it is not done in a monkey dey work baboon dey chop manner". The NDC is coming back in 2020 and NEVER AGAIN shall we repeat the mistakes of the past.

The Writer is a Deputy General Secretary of the NDC