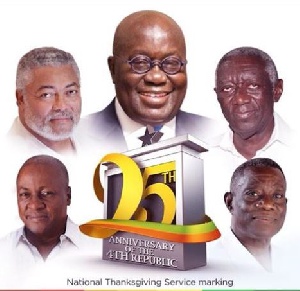 The 4th Republic marking a Silver Jubilee makes Ghana's current constitution our most enduring. As usual, we have celebrated to excess. While the passing should be marked, it should be a sad reminder of what might have been. In the preamble to this constitution, we pledged to "secure for ourselves and posterity the blessings of liberty, equality of opportunity and prosperity" and pledged commitment to "Freedom, Justice, Probity and Accountability".
Unfortunately, even as the constitution was being launched, the commitment to accountability was gutted. The traitors of December 31, in flagrant disregard for accountability, inserted immunity clauses to protect themselves. We have never recovered from that betrayal.

The celebration of this 25th anniversary conveniently grossed over many of those whose struggles and sacrifices made the 4th Republic possible -- like the professional bodies led by men like Sam Okudzeto, the students of Ghana, religious bodies like the Catholic Bishops and the Methodist Conference, led by leaders, including Bishop Sarpong and Reverend Essamuah, politicians like Akufo-Addo, Tarzan and the late John Bilson and Obeng Manu and media practitioners, including Kweku Baako, Haruna Attah, Ben Ephson and the late Tommy Thompson.

The unfortunate impression was left that Jerry Rawlings, who was dragged kicking and screaming to the 4th REPUBLIC, was its founder. That was tragic. It would be the equivalent of crediting British General Cornwallis with the founding of the American republic. The 4th Republic's undoubted achievement has been that it has survived. Otherwise, it has failed to deliver on any of its major promises included in our constitution.

It pledged, under article 25 " progressive introduction of free education" at all levels. That has not happened.

It pledged that no one shall be deprived of his/her life without due process but this has happened repeatedly with the involvement or indifference of the state -- as in the Kumbungu 4, the Ya Na et al, Agbogbloshie, the Kume Preko 5, Mobila and others.

It pledged under article 35 (7), that "As far as possible, a government shall continue and execute projects and programs commenced by the previous government." This provision has largely been honoured in the breach.
It pledged, under 35 (8), that "The state shall take steps to eradicate corrupt practices and abuse of power". Corruption and abuse of power are ascendant under this Republic.

We pledged to promote political tolerance but that has not happened. Indeed, intolerance has grown, not just between parties but within parties.

In terms of development, Nkrumah delivered more for this country in his 15 years without oil than all the Presidents of the 4th Republic combined have done to date, with oil!

We have been given bigger government instead of a better government.

Unemployment marches on while our leaders talk. The number of applicants for the recent GIS jobs bear testament to our dire unemployment state.

State institutions serve powerful interest rather than the public interest.
Our increased freedom of expression, in the public square, leads to increased noise instead of sense, heat rather than light.

Many have called for changes to the 4th Republic. Some, like Adam Bodomo, and former President Rawlings want a new Republic. Indeed, during his 31st December address in Ho, Rawlings called for a new revolution! When a convicted rapist starts admiring the shape of your daughter's breast, you would be foolish to ignore the implied threat. Adam Bodomo and other Nkrumahist desire peaceful change.

Others want the 4th Republic to work better. We must work to make the 4th Republic deliver more than just elections to the people.

We must reform our constitution.

This must begin with the report of the committee established by former President Mills. In the end, our amended constitution must ensure:

1: Election of District, Municipal and Metropolitan Chief executives by the public.
2: End the discrimination against diasporans in the pursuit of elective or appointive office at all levels. The only President who delivered on development was the diasporan, Nkrumah.

3: Assure that members of the EC are approved by Parliament after nomination by the President.

4: Make the Council of State an Elected Upper body of the Legislature.

5: Cap the number of MPs and end the requirement for Ministers to be nominated from Parliament.

In the end, though, our problems are not all due to the constitution. No constitution can solve corruption or create jobs or improve our educational system. Only good governments and policies can.

We must fight corruption as the constitution requires. The Independent Prosecutor would, despite public enthusiasm, have little effect. He/She will punish some who are corrupt -- mainly from opposition ranks. But we need to Prevent corruption, not punish it. In corruption as in medicine, prevention is better than cure. Woyome was not an aberration, it was the tip of the iceberg. While there are honest people in our government, in many areas, government functionaries have become accomplices to those who want to fleece our state.
It is the equivalent of Dracula in charge of the blood bank. No effort against corruption that does not reform the police, the judicial service and the accountant general's department, the ports and the tax authorities will have any impact. And for the avoidance of doubt, honest Presidents can preside over corrupt governments. It is not enough for a President to wish corruption away. It must be fought actively. We must create good jobs that deliver value for money to the public.

The police, sanitation and healthcare are good areas where government can create jobs. And it does not make sense to spend our scarce resources in producing graduates who are unemployable. We should produce graduates we need. Finally, as citizens, let us put country above party and ethnic group and insists on good governance.

May our 4th Republic grow and deliver on its promise. God bless Ghana.