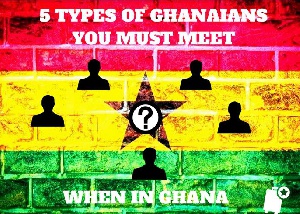 Once upon a time, many tagged us an ignorable small West African nation with many facets of developmental inspiration to hang on to and individual lights shining on it. Fast forward a few decades and press play! Ghana has evolved into a rich, attractive and resourceful country with huge significance on the world stage. This has come about due to our many successes in different sectors as well as our contribution to world development in the areas of politics, sports, education, trade/commerce among many others. This has made the country an attractive destination for many travelers who add Africa to their wishlists. Whether for business or leisure, time spent in Ghana these days is never boring partly because of the interesting destinations and tourist sites one can visit. However, there is usually an unsung hero when Ghana is mentioned. The people! Ghanaians are a group of amazing people you just can't have enough of. Jumia Travel, Africa's leading online travel agents enumerates 5 types of Ghanaians you must endeavour to meet when in Ghana.
1. Mr & Mrs Corporate - You may have seen corporate workers everywhere in the world, suited up, sharply dressed and with a swagger and confidence about them. The brisk walking and eloquence gives them away as much as the crispness of their outfits. In many ways, the situation is the same for the Corporate Ghanaian. However, there is a reason why you should meet the corporate Ghanaian. He will wear his tie on the staircase, eat ''waakye'' or ''kenkey'' before work and still manage to eat some jollof or g)b3 for lunch but still do a great presentation for his client. Come and see her in high heels, ignoring the heavy makeup,carelessly chewing into that hard ''wele'' and later negotiate a great deal for her company. You definitely need to meet his type of Ghanaian to get a different outlook into corporate life. They balance corporate life and personal life so perfectly that you may see him/her in the morning and fail to recognize them at night.

The ''soccer maniac'' - ''Phobia, ''fabulous'', ''Oly Dade'', ''Oseeyyy Mourinho'' (Jose Mourinho) are the many jargons you hear when you get closer to any football fan in Ghana. They are always alive. Win or lose, the Soccer maniac will argue and scream aloud just to support his team. You will never have a dull moment watching a game between local rivals in Ghana. The colour, noise and excitement before and after the match will overwhelm you. Just go to the stadium to watch a Hearts of Oak vs Kumasi Asante Kotoko match and you will have a feeling unmatched. The soccer maniac can virtually jump of his seat and run onto the pitch just to hug his players. He will take off his shirt and sing club anthems just to make fun of his opponents. The party that follows a win is just a sight to behold. Funny songs, crazy dance moves and some amusing words will just make your day. When in Ghana, make sure you spend some time with this type of Ghanaian.

The Traditional Ghanaian - How many Ghanaian festivals or traditions do you know? If you want to truly learn about the culture and tradition of Ghana, this is the type of Ghanaian to meet. He attends the festivals, participates in cultural practices and knows the ins and outs of all the procedures for traditional rites. He can teach you traditional dance moves and tell you the history about the town or village. You need not fear to break a law or commit a taboo when with the Traditional Ghanaian. He knows the do's and don'ts and will be in a better position to get you out of any trouble associated with breaking of laws.

The ''Hustler'' Ghanaian - On every street in any city all over the world, there is a ''hustler''. That guy or girl who was born into hardship and has to struggle on the streets day and night to make ends meet by all means possible. Welcome to Ghana! Where the hustler is fearless. Where he never gives up until there is food to eat and enough to spend. Where one can go from hustler to richman in a few months. The Ghanaian hustler is full of strategies.
He is smart and knows what to do at every opportune time to get what he wants. There are a few bad hustlers out there who may not care what they take down in their bid to achieve. They may not care who they hurt. However, there are many who struggle through fair means and make it happen. That is the Ghanaian you should meet. No matter what you want to buy or sell, he has the right market ready. They always have a buyer or seller to connect you with. And when it seems like you can't get something done, trust them to do it for you for a reduced rate. The hustle is real!

The ''Happy go lucky'' Ghanaian - We can't talk about Ghanaians without talking about the type of Ghanaian who never sleeps at night. You want a ''party freak''? There you go. Name all the fun and lively places in town and he knows. You want a cool place to hang out, he knows. You just want a place to have fun, meet a certain class of people and stay out of trouble,he knows that too. He is out and about. The ''Happy go lucky'' Ghanaian stops at nothing to have fun. No matter what he does for a living, there is that extra energy reserved to go on a 4-5 hour ''chilling'' spree. Enjoyment is a daily exercise. The clubs know him, the beaches adore him and the pubs will not close till he shows up. If you want to have anything close to fun in Ghana, this is your guy!

You may have other ideas about some other types of Ghanaians but the fact still remains that as a foreigner in Ghana, you cannot leave without meeting these 5. They will make your visit down here worthwhile.

Credit : Bennet Otoo, Jumia Travel