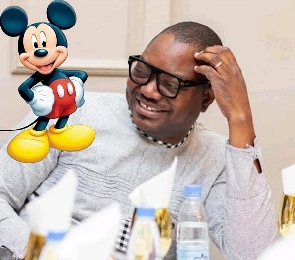 Did you know that when I was 10 years old, anytime I saw a bus branded Ghana Airrways, I used to lie to my younger brother that the bus could fly? In case you didn't know, just to tell you that today is Fridayyyyyyyy and my brain here is doing its things in no particular order! Hurray! We are still breathing and can even read. Isn't God a merciful God!
You know, people go through professional training not for the fun of it o. Imagine you going to board an aeroplane and then you see me (Mawuli) walking past with some seriousness only to be told I am the one going to be your pilot. Ajeeeeii!

Abeg, go back home and pick trotro to your destination o. Some time ago, I told my family and friends I was going abroad when it was actually just Suyani. They hired a sprinter bus to see me off to the airport and said bye bye to the plane even though couldn't see me while I was on board – that is FAITH! They didn't even know which country I was going to. Upon my return a month later, I quickly rushed to Tema station to buy some used clothing, sent them to the laundry and packaged them nicely as gift for the people back home presumably from abroad.

Now my problem was how to get them to believe that I was arriving from abroad. I had earlier informed them of my 'new arrival date'. I lodged at a budget hotel and the following day, I rushed to Terminal 3 in a fose thick winter dress and a hat to show that the cold weather from abroad has really acclimatized me. They met me in excitement at the international arrival hall. I walked with swag to meet them o. My brother, it is not easy to fake what you are not o; I had to be slanging by force and even that they could tell there was something wrong somewhere. Hmm! It is always good to be yourself. That is why anytime I am travelling abroad proper, I don't wear fose. What if the owner sees me?

Now I understand why some people drink water and eat in the morning before brushing their teeth. As disgusting as it may sound, I learnt from some researches that the early morning dirty saliva is the best medicine that aids digestion. Please google it and as to whether you believe it or not, that is what I am doing now and it is helping me paaa. Me naaa I don't like brushing my teeth already so I was happy when I saw that research material. It is a strategy for me to win arguments easily. When my mouth smells badly, I win arguments easily even when my 'opponent' is not in agreement. I will insist Arsenal is the best and even though my opponent disagrees with me, he will throw in the towel by saying 'yes, Arsenal is the best' just to avoid the bad odour from my mouth to spoil his mood!

I was at the DVLLA office to renew my licence. I told you before that I have a problem with one of my eyes. The eye testing officer is so well trained that the guy knew what he was about. I was praying that the eye for the test would be the better one. As fate would have it, he insisted on the left one. I changed to the right one. He changed it back as he insisted that was what he would want to use for the test. This guy must be a wizard – how did he know the 'problem eye' for this all-important test! I just confessed to him that one of my eyes had a carburetor problem.
Eventually he used the correct one and with that I could see crearrr. I passed the test but with a caution not to drive at night for the safety of my own self and other road users. Have you ever seen me driving in the night? Safety first o.

It's Friday and I don't even know which one of the eyes I am currently using to write this abstract and lies but it is being written all the same! The good news is that seven days from today, it will be another Fridayyyyyyyy!

I don't know what I have done to these robbers oo. After robbing me of my money with clubs and sticks some time ago, they came again last weekend. When they were leaving, they annoyingly told me 'it is nice doing business with you'.

Even though I didn't lose anything of value apart from my spoilt phones, I have a case at hand oo. Yeeei! Me again. My 'problem' travelled outside Accra for a funeral and was going to be away for one week. I wished she could do one month sef! The evil that I do. Hmmm!

Dora, a lady in my neighbourhood decided to keep me company to watch TV since my mother-in-law's daughter was away. Ah! Who no like sweet thing since Madam no dey house and kids are on vacation at Galilea located just after the Kasoa tollbooth! That was the night the robbers came to attack me again. Dora went into a state of unconsciousness as she was hit by the robbers. It was her fault. When the robbers entered my living room in sofa and saw the two of us enjoying 'kelewele' at about 2am, Dora was looking them in the face – a very dangerous behaviour especially when robbers without masks are on you. Because I have been a victim of a robbery before, I didn't even look their direction. All I did was to hand over to them GHC70; they slapped the hell out of me seven times for having very little money at home. Each slap cost me GHC10. I don't know any of Dora's relatives too. That was when I saw wisdom in the fact that it is dangerous and ungodly to bring a side chic to one's home. After all, what is the use of guest houses and movie houses! My wife is coming back tomorrow and I pray she doesn't get to know the details of what happened or else I am finished.
Abeg, if this is your first time reading this, this column is full of lies and imaginations o. So you believed the above? Then your problem big pass my own o. The way I fear attacks from robbers er, you have no idea. The ones I dread most are those with knives and cutlasses. I dread coming face to face with them than those with guns.

Some time ago, I lied to you some robbers came to me and I started addressing them as 'Chairman Armed Robber, Dr Armed Robber, etc' just to be set free. That thing rather happened to my neighbor and not me o. I was happy he was the one. That man once accused me of being responsible for his missing male cat just because he saw me entering my room with pepper, ginger, tomatoes and onions in hand on the day when he last saw the cat in the morning!

Ehern, there is this horrendous story I had been keeping away from you. Do you believe in ghosts? There are ghosts o. I went to cut my hair somewhere. The barber was fair in complexion. When he started, I could not feel my hair being cut. The guy warned me not to look back till he is done. Then in the mirror, I saw the clipper machine cutting my hair alright but there was nobody behind the machine. Ah!Weytin be this?

I got scared but remained seated. In less than a minute, everything on my head was total sakora. At this point I thought I needed to do a DNA on myself to be sure I was the one. I couldn't identify myself. I looked back and there was no one. I went out to ask if I could see anybody around to ask of the whereabouts of the barber but realized there was no one around. Then I started having goose pimples all over my body. Then when I looked back; Lord God have mercy! The thing I saw er. What did I see? So what do you want to hear? Come on, go and have a problem-free weekend and check if the insurance on your car has expired or not. Your eyes sweet you too much!

God be with you!