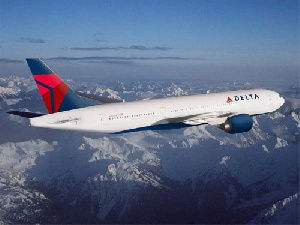 Flight Dl0134, March 20, 2012
I have read, heard, and experienced some of the poor treatments meted out to my compatriots traveling on Delta Airlines to Ghana from time to time, but have always said to myself that if, as a country, we could not manage our national airline cost-effectively and it had to be saddled with mounting debts leading to its demise, we should be appreciative that others are still in business and are trying to provide us with even a substandard service.

Little did I know how poor it could get. The maxim: "the minute you settle for less than you deserve, you get less than you settle for," played out full circle on March 20, 2012.

As we went through departure formalities on the day in question, I overhead two individuals ahead of me in the queue narrating their experiences in recent times with Delta Airlines. What I deduced from that conversation was that Delta Airline officials knowingly place very decrepit aircrafts that are not very airworthy on some of its West African routes, especially the Accra-Atlanta route. But I only shrugged that off as comments by individuals who knew next to nothing about such complex issues as airline operations. Playing the devil's advocate, I asked the question, "are you imputing that the pilots, whose life would be equally at risk flying those decrepit aircrafts, would knowingly enter the cockpit to endanger their own lives as well?" They recounted numerous episodes with Delta Airline but not a definite answer.

True to the prognosis of these laymen, two hours after we were airborne, the announcement came through that the airline had developed a problem and its communication system was unable to receive or send out any communication. I felt trapped and so did many others on the aircraft. One could see fright, despair, and uncertainty on the face of all passengers on board. We waited patiently to hear what the next message or instruction was going to be. For the next two hours or so, many had said their last prayers and asked for forgiveness for sins known and unknown in anticipation of the worst.

When the aircraft finally touched down at the Hartsfield-Jackson International Airport in Atlanta, where it took off four hours earlier, it was a moment of jubilation for many passengers who thought they had a near brush with death. In hindsight, I can appreciate the narratives of the laymen. If nothing at all, there prediction was as accurate as any trained or experienced observer would have been – analysis and prediction.
Having been on the London – New York and London – Washington, D.C. routes a few times, it is recognizable that more airworthy and newer aircrafts ply these routes to the safety and comfort of passengers and even at a lower cost. If after paying US$2, 500 for a return trip in an economy class for Accra – Atlanta - Columbus, and one has to sign up for these multiple risks and inconveniences, then Ghanaians and other West Africans on these routes must be asking the right questions.

Some of us thought by turning to Egypt Air, we might escape some of these grim inconveniences. But travelling through Cairo International Airport has brought some of us face-to-face with the stark realities of racism, discrimination, and lack of any standards by which services are rendered by Egypt Air and its associate hotels to people who look like me. Any West African and for that matter Ghanaian who has travelled through Egypt in recent times knows what I am talking about here.

As we continue to go through these tragic experiences as a people, let's continue to ask the questions: what has happened to the once glorious carrier – GHANA AIRWAYS? What is the current status of its assets scattered around the globe? Have we learned any lessons so far as a people?

Interestingly, these are not issues the powers that be are interested in addressing. They are more interested in their personal comfort and safety and what will give them opportunities to fleece the state than what will provide collective security and comfort to the citizenry.