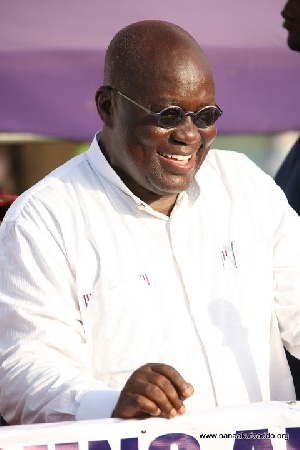 Dear Nana,
Congratulations is in order on your electoral victory. From your days of 'Kume Preko' demonstrations you have stayed true to the cause of our democracy and your victory on December 7 is not the end but rather the beginning of the journey.

I must confess when you lost the 2012 elections, I thought you would never get to be President. In 2012, I remember telling a comrade you are the best President Ghana would never have.

It was a somber moment for me having followed your exploits especially in my tertiary schools days and knowing the sort of quality that you would have brought to the position. Nevertheless Ghanaians had spoken and John Mahama was their choice.

Frankly, I did not like the idea that you had to challenge the 2012 decision at the Supreme Court. But then again, what was the alternative? Hit the streets? I embraced your decision and followed the petition at Supreme Court with keen interest having seen some of the systemic infractions that took place.

The verdict never surprised me though; I was convinced that the discrepancies could have impacted the ultimate results. Nevertheless just like most people, I felt the NPP lost the elections at the polling station having failed to properly police the process.

I admired you, but your swift acceptance of the Supreme Court verdict endeared you more to me. You displayed a great deal of statesmanship in that speech and at that point I said to myself your loss at the polls really was a loss for Ghana.

You never gave up and returned to lead the Dankwa-Busia-Dombo tradition. Surely this would have been your last chance but you were third time lucky. My worry however is the numerous promises that you have made enroute to your victory.

I must confess some of them appear lofty and impracticable given the sort of economy you would inherit. One of them happens to be the scrapping of the energy sector levies. Sir, as it stands now you know ESL is about the only means government is using to service the various energy sector debts and scrapping this cheap source of financing would mean looking for an alternative. I pray whatever alternative comes good.
As you may be aware, not all who voted for you on December 7 are supporters of your party. A lot were Ghanaians who have grown disillusioned under the leadership of John Mahama. The numerous corruption scandals and the impunity by government officials were shocking and repugnant.

Don't fall to these same mistakes. It is true the youth have labored for your victory, but be mindful of how you treat them – blend delicately their resourcefulness with the experience of the old guard. Also, try in your best to deploy the youth according to their various skills etc and not according to their role in your electoral fortunes.

Here, I will tell you 5 mistakes of the NDC you should not commit.

Communicators

A lot of these so-called communicators know nothing about communication much less strategic communication. Their refrain was always to defend the party in the face of obvious truths. It was almost like their mantra was "fcuk your feelings" we will do it our way. We have had like thousand and one scandals in this government and all these communicators sought to do was to defy logic and reasoning and argue their case as if all of us had water in our skulls.

For NPP, they should know that scandals would come and their communicators must know that the listening public is discerning and accord us that respect.

There is no need defending your party on members to hilt when a simple retraction and apology would do. Apology is not for the weak, but the strong. When you are wrong or get it wrong, say it and let's move one. No unnecessary dragging of issues and display of choking arrogance.

Sacrificing experience
Governance is a serious issue. It's not an opportunity for inexperienced people to come gain experience. Much as I believe in giving the youth opportunity to learn, as a serious government a lot more experience hands should have been given the mandate by John Mahama to steer the affairs of this country.

Lest we forget once upon a time John Mahama was a deputy minister. Same can be said of Dr. Ibn Chambas, under Rawlings' administration. In Kufuor's administration we all remember Dr. Akoto-Osei and Prof. Gyan Baffuor who all served in deputy Ministerial portfolios.

I am not speaking against harnessing potential, but sacrificing quality leadership. So the incoming administration must know it has some of the best crop of talented youths, but care must be taken not to sacrifice the old guards with relevant experience for the youths.

Let's have a blend where the youth will be given valuable opportunity to learn as they grow into leadership roles.

Appointees on TV/radio

A lot more people questioned the essence of always seeing government officials who rather than working will be seating on TV and at radio stations and be talking/debating about stuffs that had nothing to do with their portfolio. The tax payers did not elect you to become a regular panelist. They elected you for a specific job and it's nauseating that these folks thought visibility on the media scene could be equated with competence. Thankfully they paid the price.

For the incoming appointees, you can engage the media as much as you want so long as the issues evolve around your portfolio. If not you must limit your presence, nobody voted your government to become social commentators rather problem fixers.

Don't speak for NPP
Clearly no political party in power has enough support base to win power on its own. The 50+1 thus includes a lot of people without an entrenched affiliation but voted a party to power for whatever reasons.

The NDC government thought once it had the majority in the 2012 elections it means it had the blessing of Ghanaians hence they could ram everything down our throats like they would do die-hard party faithfuls.

A finest example is the release of the Montie 3. The President in releasing the trio told us that he values more the interest of his party than that of the country. May be you can add the Woyome legal gymnastics by the Attorney-General which also put interest of the party above that of the state.

Nana Addo, I believe knows that the state is bigger than any political party. When you sacrifice the state there are bound to be disastrous ramifications just as happened to John Mahama.

Condoning incompetence

We all remember the independence brochure scandal. Who got fired for that monumental disgrace? Some pawns at the ISD? It was business as usual and we moved on as a country without a whimper. There were more of such incompetence broadly on display and the leadership of the NDC or government to the best of our knowledge did anything to check it. Of course who would have forgotten about the sharp U-turn of Deputy Interior Minister James Agalga and the faux pas of the Farmers' Day holiday celebration?

It was no wonder that Prez. Mahama bore the ultimate responsibility tag of incompetent. Nana Addo, the task ahead of you is bigger than you that's why you need able people to help you execute. If for any reasons there's someone who display incompetence in his/her job, don't hesitate firing that person lest they become albatross around your neck.

No matter how close or important that person may be to you, the public really care little. It's you they voted for and they would expect you listen to them rather than your party.
And last but not least, kindly spare us the tall list of Presidential staffers. That position was well abused and came to mean party errand boys at the Presidency. Don't fall for that trap. Give clearly define roles than this abused abstract designation to your team members!

The stakes are high and you are not going to have a walk in the park as you can see. At this point I will pause and write to you as often as I can. Don't hesistate to reach out to me too should the need be!

Signed,

Your friend.