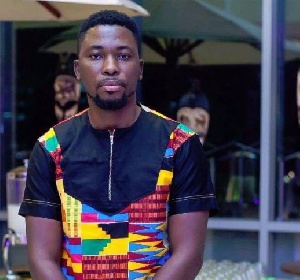 The recent declaration of assets by NPP sympathizer A Plus has put into perspective a bigger debate on just how much of a benefit the Ghanaian economy has been to him.
In what was an attempt to prevent future discussions about his source of wealth, the Comedian, who has swung into full campaign mode for the NPP has showed off his assets ahead of next month's elections.

The items include a brand new S-Class Mercedes Benz which he recently bought.

In the declaration video, he shows the car he was using previously which is in great condition, and compares it to the brand new Mercedes. All this is filmed outside his own house in a surburb of Accra.inclusion

He also showcases his black pump-action shot gun which he says he will use, to kill anybody who "fools" around with him.
It must be noted that these changes happened in the last four years of President John Dramani Mahama's rule as president.

A-Plus has put to rest any worries that the youth may be suffering. If he is able to amass such wealth as a hardworking young man, then it defeats the often rhetoric of no jobs championed by opponents of the President including the former.

President Mahama's leadership has led to an economy that will allow all Ghanaians to thrive, with indicators pointing to an even better future going into 2017.

Certainly, A-Plus is benefiting from the Better Ghana Agenda mantra of the ruling NDC government.