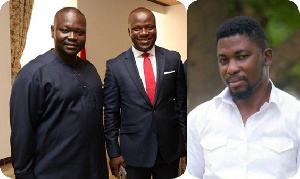 The past two weeks has been dominated by series of allegations of corruption particularly against the two deputy chiefs of staff, Francis Asenso Boakye and Samuel Abu Jinapor. Indeed, A-Plus went ahead on his Facebook wall to describe the two as, "thieves, corrupt and stupid".
The allegation by A-Plus was borne out of the involvement of the duo in a UNIBANK petition to the office of the president following an attempt by Korle-Bu teaching hospital to abrogate a revenue collection contract between the hospital and UNIBANK Ghana Ltd. The president subsequently referred the matter to the police CID for investigation and establishment of truth or otherwise of the allegation.

However, after investigations by the police the two deputy chiefs of staff were subsequently cleared of any wrong doing. But this matter was resurrected by the main protagonist, Kwame Asare Obeng otherwise known as A-Plus in a leaked audio recording of a supposed conversation between the CID boss investigating the matter and A-Plus. This desperate agenda was then fueled by a pro NDC newspaper in partnership with their communicators who had rehearsed to make huge propaganda capital out of it in desperate attempt to smear the current government with equal brush, and to tell Ghanaians that, both the NDC and NPP were equal on issues of corruption. But can anyone blame the NDC? Having come out from an election in which they were heavily bruised like never before, it is commonsensical to understand their thinking. They appear on media platforms like wounded lions, ready to cause similar collateral damage to a party that cut short their enjoyments.

Unfortunately, people like A-Plus who claim they are for Nana and the NPP are serving the opposition with hot meals of hollow corruption allegations, only to come out with comical apologies. The allegation of A-Plus is in sharp contrast with revelation in 3rd October, 2017 edition of the Finder newspaper, in which the health minister is reported to have stated that, he actually instructed Korle-Bu management not to cancel the agreement between the hospital and UNIBANK. So why did A-Plus accuse the two chiefs of staff of being corrupt? Why did he refer to these guys as stupid? Who is instructing him to keep on talking like that?

It is important to underscore the importance of the office of chief of staff at the presidency, and to remind those who throw empty salvos of alleged corruption against that office that, they hurt the image of president badly by such loose talks. How do you expect the public to view your president as incorruptible when you openly accuse his office and people working there as corrupt?

I hear this A-Plus guy who started this crusade is a special aid to the chief executive officer of Korle-Bu teaching hospital. Was he directed by his boss to throw such wild and unfounded allegations in the public domain? Is he working for or against the party? What is the level of education of A-Plus, and how was he selected to be an aid? Who examined his thought processes before appointing him to such an office? For me, listening to his argument and media encounters on social media, he doesn't come across as someone who is mentally and emotionally fit for any public office, and I can bet the NPP party that, his continues stay or close dealings with the party and government will do more harm than good. Though, I love his musical acumen, politics and music are two different turfs which require different knowledge, skills and wisdom. The fact that, he is able to put musical lyrics together to excite his fans doesn't mean he can do same in politics. He denied during the investigation by the CID, of ever referring to the duo chiefs of staff as thieves. He also, denied calling them stupid but said they were corrupt. Later in another live Facebook post he apologized profusely for calling the chiefs of staff as corrupt. What kind of clumsy human being is this? Between A-Plus and the two deputy chiefs of staffs who is stupid?
A- Plus must understand that, there are many hardworking members of the NPP who have worked tirelessly to win the sweet victory of 2016, but have not had the many opportunities made available to him. The best he can do is to show gratitude and stop being a cheap vigilante! This is the second apology A-Plus has rendered after false accusations against people in government, and I wonder how many more he will render. I will quickly refer him to one basic principle of effective communication which states that, "you need to know when to communicate, how to communicate and where to do so". I will also add a favorite Chinse proverb which states that, "Speak only when your words are more beautiful than your silence".

I have heard him brag on radio that no one can gag him from talking. I sincerely believe that no one should actually gag him after all, free speech is fundamentally guaranteed in our constitution but he should understand that in his exercise of freedom, he needs to be mindful of other people's reputation. Again, now that he is married and goes to church with the wife, I can safely recommend that he takes a look at 2 Timothy chapter 2 verse 16 which enjoins Christians to actually stay away from foolish and useless talk. Proverbs 17:28 also counsels that, "a fool takes no pleasure in understanding but only in expressing his opinion". I entreat him not to be like one.

Someone should quickly explain to A-Plus that, elections are not only won by singing. He should be made aware that, many people contributed financial, intellectual and physical resources to the campaign. People stayed deep in the nights putting together party policies, drawing up tactics, while others made sure they used their strength to guard the ballot. Even those who contributed more are behaving themselves. He should stop believing that, he is indispensable.

The two chiefs of staff should also work hard to jealously protect their image by suing anyone who makes unfounded allegations against them instead of adopting a reconciliatory approach to all issues. Tagging corruption against their person has serious political implication even if such allegations turn out to be untrue. The problem is that; such allegations leave an everlasting perception on the minds of many people who hear it but do not get the benefit of hearing the truth. I heard Samuel Abu Jinapor sounding extremely benevolent on peace with Kwame Sefa Kayi on Kokrokoo. He even stated that, he has no qualms against A-Plus and that, he was going to join A-Plus in eating Tuo-Zafi somewhere. Someone should tell Sammy to watch people he eats with lest he kills himself. The office he occupies is an enviable one, and many people wish they occupied it. It is not a position one occupies and goes about eating by heart! Let honour, and respect engulf that office. In our culture, when a child is enskinned or enstooled as chief or King, he must learn to live like a mature person.

The NPP party should quickly institute reprisal actions against those who think they can 'rock the boat' and walk away. Discipline is an important ingredient in jealously guarding political power. Good day!
Daniel Norris Bekoe

Communication Lecturer & Media Consultant,

Pentecost University College,

Sowutuom, Accra.

Tel- 0506581788