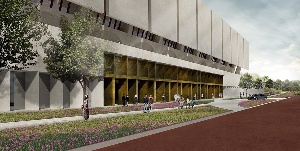 A cathedral for ghana shouldn't have been a misplaced priority
Knowing the New Patriotic Party (NPP) government for how contradictory their promises are with their doings, we must take with a pinch of salt the specifications in the about to be built National Cathedral.

Before their assumption into office, on the campaign platform, we heard of promises to build *dams* for villages, on the ground, a dugout pits for breeding mosquitoes that we see. We were promised a *Free Education*, it's now a piecemeal approach with students piled up in classrooms and dormitories with the continuation of the "garbage in, garbage out" students about to be churned out.

In the about to be built Cathedral, one that has been publicly financed with government assistance, we're told of it housing training facilities for the Ghanaian people, with the museums being one worthy as a tourist attraction.

The question is, the pastors we have in our country today, those whose donation have been taken, are they not going to use their influence to turn the place into an exploitation of the vulnerable and the gullibles' ground? Aren't they going to use the Cathedral to train the populace to be "prayer warriors" and "tongue speakers", noisemakers, instead of training critical thinkers that are needed for the rebuilding of our fallen walls?

If Ghana can progress, and we want to be counted amongst with countries that have built Cathedrals that train Nation Builders, the French Cathedral can be our blue print, but what should be tutored there should be African centred.
The President, Nana Akuffo Addo should be read to his great uncle, JB Danquah's book, "The Wisdom Of The Akan God"

In it, he'll learn the Baptistries and the Bible Museums that are foreign to our knowledge of God here in Ghana/Africa is not to be housed there.

Sooner than later, the Revolutionary Soldiers who dream the best for our country Ghana will raise a befitting Cathedral for God, if the current administration understands not our stance, one we know their spirit cannot comprehend.

With boldness, without equivocation, I state without apology to anyone that, the pastors behind the building of this Cathedral are part of, if not the whole, the sorry state we're in as a country.

They're the ones who encourage laziness among our women and youth who pray all week long in their auditoriums to the neglect of working to boost Ghana's economy. It's these same pastors who preach only materialism in their churches without teaching their followers how to make genuine money.
We can't allow that to continue, this generation does not qualify, as David in the Christian Bible was told, to build a befitting Cathedral for Ghana.

Written by: Charles Yeboah (Sir Lord)

Contact/WhatsApp: +233249542111

Email: sirlord42111@gmail.com.