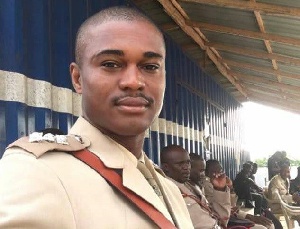 I am extremely terrified and remain in a state of discombobulation over the state of lawlessness that has suddenly engulfed a nation of high democratic credentials which has over the years earned the accolade "beacon of democracy in Africa". It appears absolutely unfathomable, how a whole nation with long standing democratic structures and institutions have been scornfully enraged by a certain group of lawless hoodlums, who in the eyes of the public domain, commit reprehensible acts with impunity. The whole nation is now in a state of insecurity since the law seems inadequate to protect the citizenry. Indeed, interesting days!!
Though I am fully aware of the numerous incidents of lawlessness in this country, never did I anticipate that such lawlessness could be extended to a dedicated young man who has committed his life to giving us security in this country. No less a person, than a whole military man, being murdered and mutilated beyond recognition by heartless men and women who think that this country is now a country without laws and common sense. May the humble soul of Captain Adams Mahama rest in the bosom of the Lord, Amen.

One thing that came to mind after hearing of this murderous event is that, does bad precedents become a seed of discord planted in society? In other words, when we allow people to commit crime and go unpunished, then others take solace in same. That is what the law of effect summarily means. Today we are all wailing and crying over spilt milk and others probably shearing crocodile tears. Does this untimely and late lamentation enough to stop similar gruesomeness? Absolutely No!! The fact is that we have had enough of such incidents of violence. Such precedents are now manifesting themselves in a different dreadful manner and we are hypocritically crying and sitting aloof in response.

As I tune to the radio and television stations, the big English is being spoken, the blame game adequately ignited, paper security analysis being elucidated, all amounting to empty and ugly cacophony. The fact is that the man is dead and gone, leaving his family in such an uncontrollable state of emotional instability. When can we execute all the "plenty talk"? The seeming unending "parroting" by those who are supposed to be the enforcers of the law is exceedingly excruciating.

People who have committed reprehensible acts are being set free by authorities using "funny legal jargons" as a cover up yet we say we abhor crime. The country is being awarded the noble prize of violence and lawlessness. Yes! We deserve it as a country but Adams Mahama does not deserve it. The chronology of such acts speak ill of a country which is globally known for its harmony, peaceful coexistence, tolerance and hospitality. Any democracy that leads to the murder of innocent, committed and patriotic citizens can better be described in my view as "democracy of abundant lawlessness anchored in mediocrity".

The bitter truth is that state institutions have virtually collapsed perhaps because of the politics of vindictiveness, dishonesty, discrimination and extreme parochialism. The pain we are going through is self inflicted. Period!!
It does appear that people have loss confidence in the state and everybody is now a security within their tents.

Hmm.. That is indeed sardonically lugubrious and highly acrimonious of a state governed by leaders and laws, to reverse a thousand mile steps to an era of primitivism and barbarism in this civilized works of the 21st century. Even in the animals world, the lion who is a carnivore doesn't go about drinking the blood of others in this manner. How then can people on daily basis rape the laws without any fears? I don't think we are living under a curse!!

Mob actions cannot and can never be an option but our institutions are silently marketing and selling it and the unscrupulous "human-dogs" are buying it. It is very painful but that is the results of our unrepentant political rhetorics, hypocrisy, double standard and mediocrity. Upholding the laws with such reluctant posture, rob off the very sanctity of the laws without which the law becomes "loss" as in our current situation that we have loss a dedicated and committed soul. Very very sorrowful!!

When will leadership in Africa ensure sanity in our so called democracy? We cannot always be preachers of the law and breakers of the law at the same time. Don't get me wrong, I'm not by this saying any leader has contributed directly to the death of Adams Mahama, but our actions and inactions in the recent past are not deterring enough to stop such deliberate unnatural disasters. A country of less than 30million people with such an internal security challenge, if we are ever bedevil with external attacks, who shall lead the command? Well, God save us.

I plead with Ghanaians to give our last confidence to the security agencies and for that matter government to swiftly bring those culpable of this disdainfully inhumane act, to book. If those criminals are allowed to go unpunished in the name of nolle prosequi, then I can optimistically speculate that there is a looming homicide in the days ahead, that nobody can exonerate themselves from the dire ramifications. When the state fails to offer its citizenry security, the last resort may be revenge, natural justice. May be that is what our country is waiting for!!
According to Martin Luther King Jnr "if we are to have peace on earth, our loyalties must become ecumenical rather than sectional. Our loyalties must transcend our race, our tribe, our class and our nation: and the means we must develop a world perspective..." We better regain our cherished values and attitudes or we shall perish and live not a second time to think of what is justifiably morally acceptable in our society.

I pray for the soul of my brother, Captain Adams Mahama, his family especially his lovely wife and two children. May the Good Lord give them enough strength to strive over this heartless torture meted out to their father. It is my firm believe that the soul of Adams Mahama shall not give the perpetuators rest till justice is given him.

Amen..........

Denis Andaban

denisandaban@gmail.com