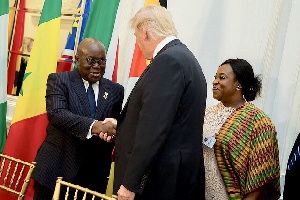 It always begins in a manner that seems benign; and in the 'supreme interest' of all! It is brewed and fanned by, close family, friends, hirelings, hangers-on, and associates, who will never have gotten close to power on their own strengths, except for the emergence of their 'gods' at the helm of affairs of State.
History is replete with such stories (and not fables), and humankind has written and recorded a plethora of events that tell the sordid stories of how despots are created.

Starting from the point of believing that all forms of supposedly altruistic wisdom is berthed in their bosom after assuming the reins of power, the despots-to-be begin to play "GOD"; thinking they know what is in the 'best' interest of the people they RULE over without gauging the opinion of the majority.

They suddenly begin to believe that they won power on the wings of their personal strengths, and not on the stronger/collective wings of the millions of unknown and unsung persons who really dug their feet in and soiled their hands, as well as those who lost their lives (including those who were sacrificed).

The despots wake up every morning to the chirping of their own human birds, and believe that they created the mornings.

Obviously, despots do not want to end up as footnotes on the pages of history, and so in their desire to leave stupid and foolish legacies that are larger than life; they change the laws of the State and RULE according to their whims and caprices.

Why would Donald Trump not refer to Africa as a "shithole", when there are some African Presidents who are prepared to salivate at the sight of the extremely stinking shit of freckle-faced and long-nosed Caucasians?

It is not the case that I ever expected anything spectacular from an Akufo-Addo led NPP Government; and it is for this reason that I am deeply worried at the speedy pace at which Kwame Nkrumah's Ghana is being destroyed under the reckless watch of President Akufo-Addo and his marauding bunch of destructive nation-wrecking elephants.

the NDC spent 8 years building a Better Ghana for Ghanaians, I am deeply worried at the speed with which the reckless Akufo-Addo led NPP Government is destroying all the solid foundations that we laid.

I recall that when President Akufo-Addo delivered his maiden State of the Nations Address last year, he told the nation that he is in "hurry".

Well, as things stand now, it is as clear as daylight that President Akufo-Addo is most certainly in a hurry to destroy Ghana and not in a hurry to develop the country.
61 years after Osagyefo Dr. Kwame Nkrumah and the Founding Fathers won for us our dignified independence and made Ghana a free and sovereign nation, the reckless Akufo-Addo led NPP Government is in a hurry to sell Mother Ghana back into perpetual servitude.

It is highly unacceptable, the speed with which the reckless Akufo-Addo led NPP Government is attempting to use the back door to get Parliament to legalise the selling of Ghana back into slavery via allowing the United States of America to setup a Military Base in Ghana.

For the avoidance of doubt, the NDC hierarchy as well as the footsoldiers fully endorse the position taken by the NDC Minority in Parliament, and we SHALL RESIST any attempt to sell Ghana back into slavery.

Indeed, I love the decision of the NDC Parliamentarians to boycott the gross stupidity of the NPP MPs to legalise the gross illegality of Akufo-Addo.

Shitty Akufo-Addo has dipped the ugly head of the destructive elephants into a stinking shithole and they shall be KICKED out of power in 2020 and the likes of Robert Jackson shill eat their own shit and know that they cannot take Ghanaians for granted.

For emphasis, I repeat that the NDC SHALL RESIST all attempts by the Akufo-Addo led NPP Government to sell Ghana into slavery.

Why is it that it is only under NPP Governments that there is always a repugnant attempt to sell Ghana back into slavery?

During the period of President John Agyekum Kufuor, there was a similar attempt to sell Ghana into slavery via the United States setting up a Military Base in Ghana, and it was RESISTED by all well-meaning Ghanaians as well as progressive forces.

Koku Anyidoho is sending a very strong and loud message to President Akufo-Addo that, just as we RESISTED President Kufuor, so shall we RESIST him too.

The words of our revered National Anthem enjoins us to "…RESIST OPRESSORS RULE WITH ALL OUR WILL AND MIGHT FOR EVERMORE"; and that is precisely what the NDC and all progressive forces shall do to stop President Akufo-Addo from selling our hard-earned sovereignty to the United States of America.
It is now crystal clear that the recent high praises showered on President Akufo-Addo by the United States Ambassador to Ghana, is nothing short of showering praises on a puppet regime.

History is replete with sordid stories of what happened, and continues to happen, to puppet regimes and puppet states, and God forbid that the NDC sits down quietly and allow Mother Ghana to be tuned into a puppet state.

Why should we allow the United States to operate a Military Base in Ghana and make this country an easy target for the world's terrorist groups?

Why is President Akufo-Addo in a hurry to make a peaceful nation like Ghana become an easy target for terrorists and other extremist groups?

What crime have we committed as a nation such that our President is in a hurry to turn Ghana into the headquarters of vultures because of the carcasses that will be littering our streets?

Is it the case that "All Die Be Die", and so President Akufo-Addo does not care a hoot if thousands of Ghanaians lose their lives as a result of terrorists attacks?

If President Akufo-Addo cannot give us jobs and cannot fulfil his numerous campaign promises, should he be creating more hardships for us by making Ghana an easy target for all kinds of terrorists groups? No way!!!!!

Nkrumah, Ghana's Foreign Policy has been driven by our Non-Aligned philosophy of not courting the anger of any factions of the geo-political divide, and so Akufo-Addo and his Government must not be allowed to align Ghana with any faction of the world's geo-political divide and create needless and avoidable problems for innocent Ghanaians.

Is it not an irony that Nana Akukfo-Addo was once the Foreign Minister of Ghana?

Is he saying he does not know the philosophy that drives Ghana's Foreign Policy?
it is sad the way certain hitherto vociferous sections of the society are keeping a loud silence on this matter and preferring to watch animals on TV instead of helping to resist the rule of the current oppressors.

Is it because the Elephant is the most destructive mammal on earth that is why some people now prefer to watch animals instead of commenting on the vile manner in which the NPP Elephants are destroying Mother Ghana with their wayward, divisive, and destructive misrule?

When President John Dramani Mahama's NDC allowed ONLY 2 Guantanamo Bay former detainees to enter Ghana under very strict surveillance and rules, all hell broke loose in this country with some people saying that then President was not applying "common sense to compassion".

Today, the Akufo-Addo led NPP Government is not willing to repatriate the 2 Guantanamo former detainees; but is also willing to allow foreigners to enter Ghana and have unfettered access to anything they want; and also allow them to live above the laws of Ghana.

We ask; is it commonsensical to allow foreigners into Ghana and allow them to live above the laws and the constitution of Ghana?

Why should some foreigners be allowed into Ghana and become First Class SPECTATORS, and treat us like SECOND CLASS CITIZENS?

So, is Akufo-Addo, the human rights lawyer, telling us that if an American Soldier rapes an innocent Ghanaian teenager, the laws of Ghana must not deal with that person?

"Nyansafuor eeeeeeeeeeee: mu we hin"?

Where are all the people and groups who used to make a lot of noise when the NDC was in power?

Why have they suddenly gone quiet?
Do they think they are doing the nation any good by keeping quiet over all the evil deeds being perpetrated by the Akufo-Addo led NPP Government?

Comrades and Friends,

If President Akufo-Addo is in a hurry to court hatred for himself and his failing NPP Government, he should go ahead and do so, so that it would be very easy for Ghanaians to vote them out in 2020.

For goodness sake; they should not court any unnecessary hatred for the Republic of Ghana.

I say without any equivocation that; if, Akufo-Addo wants Ghanaians to die; he will die on his own sword.

If Akufo-Addo wants to live in a "shithole"; let him go and live there and leave the rest of us to live in dignity.

I shall join all kinds of massive movements to GET AKUFO-ADDO OUT OF POWER because he is a failure and a traitor who wants to sell Ghana back into slavery.

kufo-Addo has massively failed Ghanaians and he must be BOOTED out of power.

I am praying for a REVOLUTION!!!