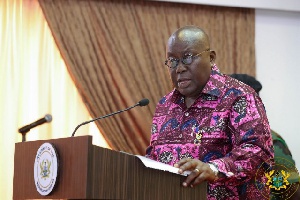 Peace from the Most High God be unto His Excellency the President, Nana Addo Dankwa Akufo-Addo. May God shower His blessings of wisdom and healthy longevity upon him. Amen.
My motive behind this publication is against the backdrop of the ongoing murmuring in Kumasi where it is alleged that the Asante "Overlord", Otumfuo Osei Tutu II, is the instigator behind former President John Dramani Mahama's quest to make a comeback to the presidency. The motive also emanates from the message to me in my sleep in the wee hours of Sunday, 21 October 2018 subsequent upon which I have published an article entreating the Kumawu Ananangya and Odumase royals not to feel intimidated by Asantehene and Co. In the same instance, a message of "ye ne wo sere kwa" from Daddy Lumba's song was received and meant for the President hence this publication.

This write-up is not about beseeching the President to be on enmity with Asantehene but all about advising him to be careful of his bonded friendship with the Asante "Overlord". This has absolutely nothing to do with my personal disagreement with Asantehene Otumfuo Osei Tutu II as copiously publicly expressed. It is all about the two stated reasons above if indeed he is the one who has incited former President Mahama to stage a comeback.

Don't get me wrong, former President John Mahama is within his constitutional rights to contest for the presidency for a second term provided it sits well with the Ghanaian electorates. However, to be goaded by Asantehene Otumfuo Osei Tutu II, to do so were the allegation doing rounds in Kumasi be true, then I shall be shocked to my bones. Can he really like both Presidents equally with all his heart, mind and soul? I doubt it!

The bible says in Matthew 6:24, "No man can serve two masters: for either he will hate the one, and love the other; or else he will hold to the one, and despise the other. Ye cannot serve God and mammon". This means that surely, Asantehene will like one of the Presidents more than the other. Your guess is as good as mine to tell with certainty the one among both Presidents that he will like more.

He can smile, dine and dance with His Excellency Nana Addo Dankwa Akufo-Addo, however, if it turns out that truly he had secretly encouraged former President Mahama to contest the NDC flag bearer's position to finally contest election 2020, then Nana Akufo-Addo must watch his back when Asantehene is around. Some people can be smiley on the face while being abusive behind your back.

The President is from the Akyem Abuakwa royal family, but not Akyem Kotoku or Akyem Bosome, I should think. If so, he understands all the tricks by, and wickedness of, our chiefs. I am not going to recount them here but will simply implore him to read the content of the underlying web link in addition to the lyrics in Daddy Lumba's song as indicated below.
https://www.ghanaweb.com/GhanaHomePage/features/Kumawuhemaa-is-Cracking-Under-Pressure-138786

https://www.youtube.com/watch?v=aom5VfVIS-o

Is it not said by the Akans that, "nwaawaa a ohunu ne ho so hwe na odane tope"? The saying by the Akans in English is, "The tiny snail that takes good care (safety) of itself grows into an adult snail". A word to the wise is sufficient.

Lest I forget, was Asantehene not alleged to have influenced the verdict of the Supreme Court on Election 2012 petition in favour of former President John Dramani Mahama? Was he again not found to be dancing to the tune of Daddy Lumba's "Ye ntie obiaa" with his buddy President John Dramani Mahama, and indeed none of them did listen to the concerns of the public but their own heart? Simply put, His Excellency the President, Nana Addo Dankwa Akufo-Addo, must "shine" his eyes whenever he is within the vicinity of, or in the presence of, "wo gyamfo"

What a concise admonition! In case I am done, then it's "à plus tard"