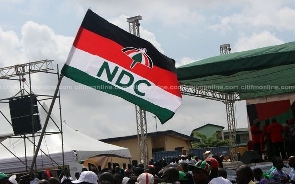 It is not the least surprising to some of us at all to read that the reputable Economist Intelligence Unit (EIU) has reported recently that the governing New Patriotic Party (NPP) will retain power in the 2020 general elections (see: '2020 election is yours to lose-EIU predicts NPP victory'; myjoyonline.com/ghanaweb.com, 15/09/2019).
Apparently part of the report reads: "Our forecast that the 2020 polls are the NPP's to lose remains unchanged."

It is also not far-fetched for the Economist Intelligence Unit (EIU) to conclude in its country report that former President John Dramani Mahama will find it extremely difficult to convince discerning Ghanaians into accepting that he is the preferable manager of Ghana's economy, given the country's fairly strong economic growth under President Akufo-Addo.

With all due respect, the EIU has been extremely charitable to former President Mahama for failing to make it clear that NDC would have stood a better chance in 2020 if the party Delegates had elected a different flagbearer.

Whatever the case, the Economist Intelligence Unit could not have put it any better: Ghana is indeed heading towards a favourable economic growth under the NPP government.

Verily, I cannot for the life of me, comprehend how and why anyone calling him/her self a reflective thinker can proclaim that Ghana's economy under former President Mahama (3.4% growth and 15.4% inflation) was better than under President Akufo-Addo (8.6% growth and 9.1% inflation).

It is, therefore, not the least surprising that Ghana's economy has received thumbs-up from the likes of the seasoned journalist, Malik Kweku Baako, the Director of the International Monetary Fund (IMF), Ms Christine Lagarde, and the United Nations Special Rapporteur on extreme poverty and human rights, Philip Alston, who have been commending the Akufo-Addo's government on its excellent economic performance in less than three years in office.

In 2017, the Bloomberg News, for example, predicted Ghana to become "Africa's fastest-growing economy in 2018 "and Ghana was proclaimed "Star of Africa in 2018 Lenders' Economic Forecasts".

And, in reporting on the same fiscal policy achievements, Le Monde pointed out that "Ghana's economic success is not just as the result of an oil-driven boom, but is also due to prudent economic management, an entrepreneurial population, the role of traditional leaders, and good governance."

The latest on the list of observers on Ghana's propitious economic standing is the Nigerian scholar, who recently gave a presentation at the NDC's most recent forum, in which he emphasised Ghana's thriving economic growth under the NPP government.

In assessing Ghana's auspicious economic position, the Director of the International Monetary Fund (IMF), Ms Christine Lagarde, observed that the Ghanaian economy is in a better place than it was in the previous years under the John Dramani Mahama's administration.

Ms Lagarde thus opined that the Akufo-Addo's government had made important gains towards macroeconomic stability, including inflation, which had declined to a single digit and now within the Bank of Ghana's (BoG's) tolerance band; buoyant growth, averaging about five per cent between 2015 and 2018, and, over six per cent in 2017-18) and a primary surplus in 2017 for the first time in 15 years (IMF 2018).

In the same vein, following his working tor in Ghana, the Special Rapporteur on extreme poverty and human rights, Philip Alston, observed: "Ghana met the targets for halving extreme poverty and halving the proportion of people without access to safe drinking water, and it achieved the goals relating to universal primary education and gender parity in primary school.
In fact, the seasoned journalist, Kweku Baako Jnr hit the nail on the head when he pointed out on Joy FM's political show (News File) on Saturday 6/04/2019 that the NPP administration led by President Akufo-Addo has performed exceedingly better than the erstwhile NDC government led by former President Mahama.

Comparing the state of the economy in first two years of the two administrations, Kweku Baako Jnr aptly concluded that the economy is in a better shape under the Akufo-Addo's administration than it was under Mahama's administration.

Baako Jnr, therefore, asserted poignantly: "There's no doubt that the Akufo-Addo administration has done far better than the Mahama administration; it's as simple as that, the figures and the records support it (myjoyonline.com, 6/04/2019)."

Some of us, as a matter of principle, cannot end our arousing disgust anyhow and anytime soon over the erstwhile NDC government's irreversible incompetence and the corrupt practices which destabilised Ghana's macroeconomic indicators.

Whilst we do not want to buy the widely held assertion that politics is a dirty game, one would not be far from right to suggest that the political terrain is full of inveterate propagandists and manipulating geezers.

Of course, roguish politicians are not limited to Africa, it is a global phenomenon, as a matter of fact.

However, in our humble opinion, it is our part of the world (Africa), where political insobrieties and vague rhetoric are so prevalent.

Perhaps, this is so because we have greater number of unlettered folks, many of whom cannot choose between tricksters and morally upstanding politicians.

Of course, the opposition is obliged to put the incumbent government on its toes. But does the opposition NDC have to grumble and criticise for criticising sake?

In any case, one cannot help but to giggle over the minority NDC's renewed zeal to expose and prevent perceived incompetence and corruption in the NPP administration.

Bizarrely though, the minority NDC faithful are gleefully hopping around the globe (from United States to Luxembourg), with a view to detecting a perceived corruption by the NPP government. How strange?

Let us be honest, if they were that good at detecting and preventing sleazes and corruption, how on earth did they go to sleep over the scandalous corruption cases involving the infamous Bus Branding, Brazil World Cup, the Ford Expedition vehicle, GYEEDA, AZONTABA, SADA, SUBAH, the purported $300million debt incurred on the faded STS housing deal, the dubious Embraer 190 Aircrafts and hanger for the Ghana Armed Forces and over a US$100 million oil revenue loss between 2011 and 2013 as reported by the Public Interest& Accountability Committee?
Perhaps, the NDC apologists are trying their level best to convince their aggrieved supporters of their consuming desire to recapture power in 2020.

Let us be honest, Kweku Baako Jnr was absolutely right when he once stressed that the minority NDC operatives were seeking to 'internationalise their incompetence'.

Isn't it somewhat ironic that the opposition NDC operatives have soon found their voices and squalling and scolding at the roof top about alleged sleazes and corruption?

To some of us, it is an illustrative case of 'let us give a dog a bad name and hang it'. Obviously they are trying their level best to bring to the fore the non-existent sleazes and corruption. How pathetic?

It beggars belief that despite the unbridled corruption, the arrogance of power and the irrevocable incompetence by the erstwhile NDC administration which resulted in massive economic collapse, the NDC apologists, would still have the moral authority to accuse others.

Whatever the case, that is the beauty of democracy. The minority NDC operatives are within their democratic rights to whine and speak their piece and criticise the infant NPP administration as they see fit.

But all said and done, the NDC communicators ought to exercise a great deal of circumspection and consider criticising constructively and put forward alternative policies and programmes.

Some of us have always held an unfailing conviction that governance is a serious business and as such it requires forward thinking, serious and committed group of people to bring about the needed progress.

However, it has not always been the case in Ghana's democratic dispensation. The multi-party democracy has given birth to both purposeful and coarse political parties.

And, as a consequence, we have for a long time been relying on lousy economic managers who cannot see their backsides from their elbows and have only succeeded in sinking the economy deeper and deeper into the mire through corrupt practices.

In fact, we share the same sentiments of the reflective sceptics who argue vehemently that despite spending 27 years in government, the successive NDC governments have failed woefully to improve upon the socio-economic standards of living of Ghanaians.

The contending schools of thought have been arguing consistently that the successive NDC governments only managed to destabilise Ghana's macroeconomic indicators through dreadful errors in decision-making.
Despite the likes of the Economist Intelligence Unit (EIU) attesting to favourable economic growth under Akufo-Addo's administration, the NDC operatives are all over the place nagging, grumbling and censuring the NPP government for perceived slow pace in development in less than three years in office.

The fact however remains that if the officials of the erstwhile NDC government had not allegedly squandered the funds meant for various developmental projects, the NPP government would have enough funds at its disposal to undertake a lot of developmental projects.

So on 7th December 2016, discerning Ghanaians found in NPP, a redeemer, in whom they reposed their absolute trust to set them free from the NDC government's unpardonable economic enslavement.

So who says that the critics are not absolutely right for suggesting that if discerning Ghanaians had not graciously intervened by showing the dreadful economic managers (NDC) the exit through universal adult suffrage, the terrible errors in decision-making and the rampant corruption would have obliterated Ghana off the world map completely?

Given the appalling conditions back then, we can confidently deduce that discerning Ghanaians made the right decision on 7th December 2016 by electing the septuagenarian Nana Akufo-Addo and retiring the middle-aged John Dramani Mahama.

How can former President Mahama and NDC stand in front of the good people of Ghana to solicit for their votes in 2020 if they cannot see the need to beg for forgiveness for wilfully dragging the 14% economic growth in 2011 to a disappointing 3.4% by December 2016?

So, do former President Mahama and his NDC apparatchiks really believe that they can manage the economy again when they needlessly raised Ghana's debt from GH9.5 billion in 2009 to an incredible GH122.4 billion by December 2016 with a little to show for?

The good people of Ghana cannot so soon forget and forgive former President Mahama and the NDC apparatchiks for the business crippling dumsor in the last five years of their administration.

Truth be told, the NDC apparatchiks should stop taking Ghanaians for granted and ask for forgiveness for terribly collapsing the Agricultural sector by reducing the growth from 7.4% in 2012 to a miserable 2.9% in December 2016.

If former President Mahama and NDC really want to lead the country again, then they should render an unqualified apology to the good people of Ghana for shrinking Ghana's GDP from $47 billion in 2011 to $40 billion by December 2016.

Who says that discerning Ghanaians have forgiven the NDC for recklessly giving out large portions of Ghana's scarce resources to parasitic creatures?

Why should discerning Ghanaians trust Ex-President Mahama and NDC again when they flagrantly gave away more than 58% of Ghana's bauxite to the sibling of Mahama, Ibrahim Mahama on 29th December 2016, just a little over one week before exiting power?
In fact, former President Mahama should do the honest thing by apologising on behalf of his brother Ibrahim Mahama for egregiously evading import taxes to the tune of GH12 million during his tenure in office.

So Ex-President Mahama and the NDC apparatchiks think that Ghanaians have forgiven and forgotten the purported GH800 million dubious judgment debt payments, including the GH51.2 million to Woyome, $30 million to the Waterville and $325,000 to Isofoton which resulted in the drastic reduction of capital expenditure?

How can discerning Ghanaians be so sure that the allege misapplied loan facility of $200million which was supposed to provide around 5000 affordable housing units and only provided just under 1500 housing units will not happen again in Mahama's second term in office?

Are the NDC apparatchiks not concerned about the misappropriation of $175 million loan facility secured in 2012 which was meant to provide seven district hospitals but misapplied on the blind side of Ghanaians?

To be quite honest, some of us would be extremely surprised if the NDC apparatchiks failed to beg Ghanaians for forgiveness before 2020 general elections for surreptitiously diverting $6 million of a government loan facility of $175 million meant to provide seven district hospitals into researching the then governing NDC party's chances of winning the 2016 general elections.

Well, the NDC apparatchiks should not think that Ghanaians still suffer from chronic memory loss and therefore cannot recall the over GH200 million SADA funds invested on trees which were reported to have burnt down to ashes and the guinea fowls which flew to the nearby Burkina Faso without a trace. How bizarre?

Even though a competent court of jurisdiction has convicted and sentenced two former NDC officials over the embezzled GYEEDA funds meant to provide suitable employment for the youth of Ghana, former President Mahama must apologise to Ghanaians for superintending over such mess.

Last but not least, former President Mahama and his NDC apparatchiks definitely owe discerning Ghanaians an unconditional apology over the scandalous Bus Branding, the Brazil World Cup, SUBA, SSNIT, NCA, MASLOC, and the Ford Expedition Vehicle, amongst others.

From the look of things, unless former President Mahama and his NDC apparatchiks decide to render an unqualified apology, the good people of Ghana will continue to ventilate their arousing disgust over their terrible errors in decision-making which culminated in harsh socio-economic standards of living.

The EIU has stated the obvious: it will be easier for a camel to go through an eye of a needle than discerning Ghanaians voting Mahama and NDC back into power in 2020.

K. Badu, UK.