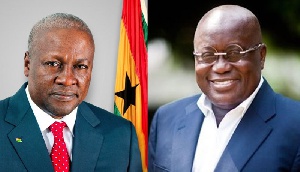 By George Sydney Abugri
The hour of reckoning has finally burst forth upon us and from the

southern coast to our northern borders, our compatriots will tomorrow

file up to vote in what promises to be the great grand uncle of all

national elections since the British lowered their Union Jack for the

very last time and vamoosed from our shores.

In the coming hours, there will be high voltage electricity in the

very air we breathe, but the key word for voting day should be the

five-letter word "peace." You are probably familiar with the strange

expression, "as long as peace and war." I recall the expression with

some puzzlement every election year in Ghana.

As far as tomorrow's elections are concerned, the rules for peace are

so incredibly simple: No booze anywhere near any polling station, no

menacing, muscle-bound human creatures on snarling motorbikes wearing

scowling countenances and looking for trouble.

The phenomenon of heavily built men with bursting sinews and biceps

like oak tree trunks zooming around on snarling motor bikes snatching

ballot boxes and intimidating voters is apparently yet to be made a

very unattractive prospect for the so-called macho men of the election

season.
Mrs. Charlotte Osei will do well to avoid the late delivery or

non-delivery altogether, of voting materials and equipment, the

unnecessarily long queues, the failure of election officers to show up

at polling stations long after the scheduled starting time for voting

and the problem of defective and malfunctioning equipment.

During the 2012 elections, there was the bizarre case of prospective

voters, most of them blue collar workers, whose finger prints could

not be registered biometrically even though the equipment was

functioning perfectly. Sympathetic registration officials washed the

hands of the unlucky prospective voters with soap but a fat lot of

good that did when they tried taking the fingerprints again!

That is what happens when you insist on living a caveman's life in a

high-tech age: Road and building contractors, factories and other

industries have staunchly refused to provide protective gear for the

blue collar workers.

You will often find construction workers chiseling away at metal,

concrete, quarry stones and other hard surfaces with their bare hands,

and to think that this is millennium number three! Some blue collar

workers handle chemicals without wearing gloves. The result of all
that: Scarred fingers with no prints.

That this is dehumanizing, unfair and against international labour

laws is bad enough but to be well and truly disenfranchised as a

result as well...! I don't know if there is anything the Electoral

Commission can do about such voters.

Political parties in my view, have a responsibility to ensure that

there is no undue aggression and disruptive behaviour by party

supporters in the name of vigilance at polling stations, and the media

must remember that it is only the Electoral Commissioner who is

mandated by law to announce the results.

Inspector General of Police Mr. John Kudalor has warned that while the

police will act with professional discipline during the elections, the

police will also act decisively in cases of violent or unlawful

conduct on the part of anyone, without prejudice.

This election is so critical for obvious reasons, that we shall call a

criminal a criminal. Anyone who engages in violence or electoral fraud

will carry that apt description and not be referred to as a macho man,

foot soldier, party supporter any other words from the political

dictionary of rank nonsense.
I was pleasantly surprised to note during the last election, that the

NDC and the NPP which are both irredeemably notorious for politicizing

everything with a name, did not jump to the defence of six muscular

men in black jackets who drove around voter registration centers at

Taifa in Accra, intimidating citizens seeking to register. That is I

call patriotic collaboration in the pursuit of peaceful elections.

A footnote to the check list for peace during and after today's

election is this: For the NDC and NPP presidential candidates who have

literally burnt up so much energy, time, emotional health and colossal

financial and other resources on their campaigns, the prospect of

defeat is too painful to contemplate.

Yet inescapably, President Mahama and Nana Akufo-Addo will each win or

lose tomorrow's election, which is a roundabout way of asking each of

the gentlemen to brace himself up emotionally and psychologically to

accept defeat with dignified grace. The ever present danger is always

that of the loser refusing to accept defeat and assembling his

supporters to wreak havoc on peace and security.

If they have neglected to do so already, they may each want to talk to

a psychologist and/or a priest/counselor before ballot papers start at
sailing down into ballot boxes at the signal from the Electoral

Commissioner. They will each most likely be reminded that losing an

election is not the end of the world but only a signal from fate,

circumstance and destiny, to retreat, reorganize and give sweet power

the good old chase again when the constitution calls.

Rig, rig, rig. The controversial song of the season has been playing

at quite a pitch and as you might have guessed, it is not about our

oil rigs. It is about cheating and fraud in elections. Once the

safeguards against electoral fraud has been guaranteed, vigilance on

the part of polling and security agents should make rigging difficult

if not impossible.

The results of tomorrow's election will no doubt enable us to

classify, categorize and rate in order of credibility, members of the

merry band of seers, magicians and soothsayers in the Diaspora and in

town who go by the name pollsters.

One moment, one pollster has one of the two leading presidential

candidates far up ahead by a wide margin but then, the next moment,

another pollster comes along with his findings which have the first

pollster's loser winning by an even wider margin!