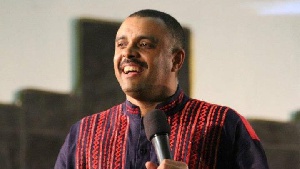 A successful leader may attribute his success to many different things. However, it is important for a leader to recognize the grace of God when it is working in his life. People do not recognize the grace of God and do not take advantage of it. When you recognize His grace, God will bless you and do things in your life that are purely the grace of God in action.
"For the grace of God that bringeth salvation hath appeared to all men" –

Titus 2:11.

Failing to recognize this grace will cause you to ignore it, refuse it or even reject good things. Paul spoke about how the apostles had recognized the grace of God that was on his life for the evangelism of the Gentiles.

…and RECOGNIZING THE GRACE THAT HAD BEEN GIVEN TO ME, James and Cephas and John, who were reputed to be pillars, gave to me and Barnabas the right hand of fellowship, so that we might go to the Gentiles, and they to the circumcised.

They only asked us to remember the poor – the very thing I also was eager to do.
Galatians 2:9-10 (NASB)

Paul spoke about how he recognized the grace of God on his life. He had recognized the grace of God on Timothy and had asked him to be strong in that grace. But he was able to recognize the grace of God on his own ministry and this made him work even harder. He said he laboured even more abundantly because of this grace. When you recognise the grace of God you must jump into action and work harder than ever.

But by the grace of God, I am what I am: and his grace which was bestowed upon me was not in vain; but I laboured more abundantly than they all: yet not I, but the grace of God which was with me.

1 Corinthians 15:10

A leader recognizes the grace of God that has given him certain gifts.
A leader can also become successful through gifts. Pride tells us that we must earn everything we have. We love to boast about how hard we worked to get the things we have. But God may want to make you rich through gifts that He expects you to receive. I have enjoyed many gifts in my life and ministry. For several years, I used cars that were given to me as gifts. I could not afford a car but I prospered through gifts given to me. Solomon, the new king, received gifts which became a blessing to him. Indeed, Solomon prospered because of the gifts that he received. Solomon received gifts of timber from Hiram, his father's friend. The queen of Sheba also gave gifts to Solomon. Indeed, Solomon became rich through the gifts he received.

And Hiram sent to Solomon, saying, I have considered the things which thou sentest to me for: and I will do all thy desire concerning timber of cedar, and concerning timber of fir. My servants shall bring them down from Lebanon unto the sea: and I will convey them by sea in floats unto the place that thou shalt appoint me, and will cause them to be discharged there, and thou shalt receive them: and thou shalt accomplish my desire, in giving food for my household. So Hiram gave Solomon cedar trees and fir trees according to all his desire.

1 Kings 5:8-10

And she gave the king a hundred and twenty talents of gold, and of spices great abundance, and precious stones: neither was there any such spice as the queen of Sheba gave king Solomon.

And the servants also of Huram, and the servants of Solomon, which brought gold from Ophir, brought algum trees and precious stones. And the king made of the algum trees terraces to the house of the Lord, and to the king's palace, and harps and psalteries for singers: and there were none such seen before in the land of Judah.
2 Chronicles 9:9-11

A leader recognizes the grace of God that gives him favour.

Favour is when someone likes you without any good reason. You can succeed because someone looks upon you favourably. Esther was one amongst thousands of available and willing ladies. Why was she chosen? What did she have that others did not have? Favour!

So Esther was taken unto king Ahasuerus into his house royal in the tenth month, which is the month Tebeth, in the seventh year of his reign. And the king loved Esther above all the women, and SHE OBTAINED GRACE AND FAVOUR in his sight more than all the virgins; so that he set the royal crown upon her head, and made her queen instead of Vashti.

Esther 2:16-17
When you recognize the grace of God, you will make the most of it and develop under it. Paul wrote to Timothy and asked him to recognize the grace of God on his ministry and to be strong in it. "Thou therefore, my son, be strong in the grace that is in Christ Jesus" (2 Timothy 2:1). Recognize the grace of God and give it its place. You will be amazed at how it will help you succeed!