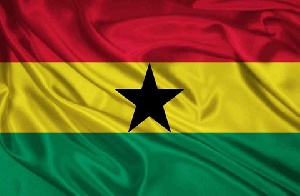 I was indeed itching so badly to articulate my opinion on the ongoing sorrowful issues in Ghana whilst on a two-week family vacation in faraway Brampton, Ontario (Canada) but I could not do so due to some circumstances beyond my control.
Even though the hectic schematic arrangements with my elder brother I had not seen for 32 years did not permit me to air my views on the ongoing Ghanaian political and socio-economic issues whilst in Canada, I followed the regrettable events keenly on radio.

In fact, following a carefully considered reflection on the unfortunate incidents in Ghana and my observations during my travels around Canada, the immediate question that came to mind was: 'are we (Ghanaians) really serious as a nation?

Truly, I cannot abandon my puzzled countenance when some Ghanaians persistently and deliberately contend that it is somewhat hackneyed and oxymoronic for anybody to assert that after 61 years of independence, one would expect a nation like Ghana to be in contention with the likes of South Korea, Malaysia, and Singapore.

Well, whichever way you may view the topic under discussion, I will venture to state that we are at where we are today due to leadership paralysis. Indeed, our leaders have not been hitting the ground running.
Dearest reader, let me crave your indulgence just a moment longer to pose: which independent country on this planet (Earth) would its politicians, regulators and law enforcers sit idly while some recalcitrant foreign illegal immigrants despoil its natural resources and denude the environment in the process?

Believe it or not, I wept bitterly for my beloved Ghana upon touring the Niagara Falls during my recent visit to Canada.

Whilst the politicians elsewhere are pragmatically raking huge benefits from their natural resources towards the development of their respective countries, the lousy Ghanaian politicians are sitting aloof while some foreign infiltrators are forcibly taking away our natural resources and destroying the environment in the process. How pathetic?

Let us be honest, some of our leaders are indeed laid-back. And if that was not the case, how come we command all these resources and continue to struggle economically?
Let us face it, our politicians have been disappointing. Take, for instance, we have abundant sunshine that can be generated into solar energy, yet we lack the pragmatic policies to realise such dream.

What is more, we have enough water bodies, and yet we have allowed foreign infiltrators to engage in illegal mining over the years and in the process have destroyed our sources of drinking water. How bizarre?

As a matter of fact, we are being swamped by tons of rubbish, yet our policymakers have failed over the years to brainstorm how we can use such rubbish to generate power.

It would, therefore, appear that the vast majority of our leaders (both political and non-political) have no hearts. They are heartless.
If that was not the case, what would then make a group of bank executives conspire and squander over GH8 billion?

And yet when it comes to the prosecutions of the affluent criminals, we are often made to believe: "the wheels of justice turn slowly, but it will grind exceedingly fine."

Nonetheless, we can gloomily recount a lot of unresolved alleged criminal cases involving the wealthy personalities.

Unfortunately, however, it would appear that in Ghana, the justice system more often than not, descends heavily on goat, cassava and plantain thieves, and let go the remorseless criminals who hide behind the narrow political colourations.
We should, however, take solace in the fact that with the arrival of the Office of the Special Prosecutor, the justice system is going to descend heavily not only on the goat, cassava and plantain thieves, but as well as the hardened criminals who hide behind the narrow political colourations

Indeed, it would be a great news if the Special Prosecutor managed to claw-back all the embezzled monies in the scandalous corruption cases involving the infamous Bus Branding, SSNIT, Brazil World Cup, GYEEDA, AZONTABA, SADA, SUBAH, the purported $300million debt incurred on the faded STS housing deal, the dubious Embraer 190 Aircrafts and hanger for the Ghana Armed Forces and over a US$100 million oil revenue loss between 2011 and 2013 as reported by the Public Interest& Accountability Committee.

How long would individuals commit unpardonable crimes (gargantuan sleazes and corruption) against the state and get away with their misdeeds?

"We are not serious as a nation, are we?"