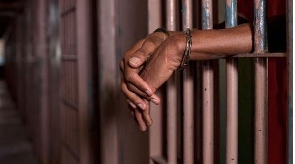 The Tuesday meeting was rescheduled first at the behest of the police and second at my behest; a new date is still pending.
When I was leaving the police station at about 530am after my "arrest" and detention for querying why police will flash a torchlight into my face, the CID officer warned me that he could "not guarantee your safety in front of the gate because armed robbers attack people there!"

The Teshie police station is a few meters away from Kofi Annan International Peacekeeping Training Centre; Military Academy and Training School; and Teshie Military camp.

While my sons and I were trying to find our way out, the taxi driver called someone on the phone, seized our school bags and my left wrist, and said in Twi, "I will get him detained again" if I did not pay him 50 Cedis extra.

On the phone a man who identified himself as "Paul, a soldier from Burma Camp" said he was the car owner and was now demanding 200 cedis instead of the extra 50 Cedis the taxi driver was asking for…….otherwise he will come and kill my sons and me in full view of the police. He reminded me that as soldiers they had carte blanche with the police.

How did the 50 Cedis come about when we had paid 25 Cedis and disembarked?
The police had prevented us from leaving the Bush Road checkpoint on foot even though the car they badly wanted to search was now available to them. And they insisted that we had to pay for the extra time the driver had wasted.

Fortunately, the taxi driver's calling credit got finished so I used my phone to call "Paul" on (+233) 054 678 1763. I transferred the 200 Cedis into the taxi driver's Tigo Mobile money account. His name and number too are available.

Once we disembarked and the police then forced the taxi driver to take us to the police station in the taxi, is it still our obligation to pay the taxi driver?

The CID officer "Francis" agreed with the taxi driver, and made him wait till morning to collect his sales from me!

Ms H, a friend has asked me if I "feel safe", and if I think my "children are safe in ghana?" I simply told her "I am a journalist" and I believe "I died long ago. I am now living in overtime."
Even more troubling is the fact that the so-called police witness, "Ashmond" said he knew my house when I gave the direction for self-recognizance bail.

While the Bush Road checkpoint activity was going on, I telephoned a Bureau of National Investigation (BNI) officer to enquire about this so-called "random search" and whether the police are directed to let passengers in every car alight.

His answer: "It depends on what they are searching for?"

Meanwhile, Ms H reminded me that when the armed traffic police took our food, clothes and luggage meters away and left them on the ground, they could have dropped some hard drugs in it to frame us.

This was exactly what I was trying to prevent by staying in the car. Besides I could never make my teenage children get down in the presence of HEAVILY ARMED TRAFFIC POLICE – the notorious "stray bullet" people, no way!
"I am shaking my head……..shaking my head," my mentor continues to say about the whole episode, "infantile disorder, typical of a fourth world environment, a failed state tottering on the brink of disaster."

Feedback; ato@writersghana.com; www.writersghana.com; LinkedIn, Isaac Ato Mensah; Instagram, @atomenswriters; Twitter, @Atomens; Facebook, Writers and Shakespeares Ghana; Telegram, Isaac Ato Mensah; Quora, Isaac Ato Mensah. WhatsApp (+233) 020 022 0353.

Writers and Shakespeares Ghana Limited exist to be a moral and intellectual guide to the best practice of PR and integrated communications around the world, beginning with Ghana.