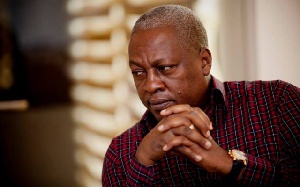 Early in the morning of Monday the 22nd of August, 2016, I had a WhatsApp message from a pro-NDC group indicating that the president would be pardoning Salifu Maase and his gang.
The message stated categorically that the president would be pardoning those 'criminals' on that very Monday. True to the words of that message, the president pardoned those criminals as reported by almost all the media houses in the evenings of that very Monday.

I'm not a lawyer so I can't speak from a legal perspective. In fact, I know nothing about the law. The lawyers have already confused some of us with their varied interpretations. Very respected lawyers in the country have given so many different interpretations that you don't know which is which. But at least I have common sense. So I'm going to speak from my common sense perspective.

I think we all have aged people in our families. We're trained to respect the elderly and ask not to raise our voices on them. Sadly, we've had some new group of youth who insult the elderly without any sense of shame. One wonders whether they were not trained in their various families or they never read the book, "courtesy for boys and girls".

Those 'Montie trio' gang are typical examples. They have insulted every respected person they disagreed with in this country. They insulted footballer Asamoah Gyan, insulted the Okyehene, insulted the latest husband in town, Manasseh Awuni Azure and insulted Abu Ramadan. As for their insults to Nana Addo and Dr. Bawumia, the least said about those unpalatable insults, the better.

These criminals didn't end there. They carried their insults to the neutral Supreme Court judges and threatened end their very existence on this earth. They threatened to rape a over 60 years old mother and kill another. They perhaps forgot that it's the same Supreme Court judges that passed judgement to favour the president in the historic 2013 Election Petition.

The Attorney General should have taken action on those threats but they unfortunately refused to do so. The National Media Commission should have also taken a stance but they also refused. Then when those who were threatened to be raped and killed decided to take an action to not only protect their lives but to also train those criminals with some positive manners which they seriously lack, some very small section of the society begin to cry foul.
They started saying all manner of things. They equally signed some petitions which the president now says forced him to pardon the criminals.

The president's action forced certain begging questions. What would have happened if the criminals didn't threaten the judges on behalf of the president? What would have happened if the criminals weren't NDC members? What would the president do if others petition for other criminals to be released or pardoned?

The president by this singular action have opened the floodgate for others to insult people they disagree with and go unharmed. The president has equally encouraged others to threaten to kill any person they dislike. This is a bit surprising coming from a president who campaigned using the "I Care For You" slogan in the 2008 elections.

I wonder whether the judges don't deserve to be cared for. Maybe the judges need to contemplate on their own future and how to take care of themselves.

On a second thought however, I decided not to see it as a surprising decision because the president has already indicated he is a dead goat and doesn't care much about the wellbeing of his own people. If one compares this unwise action to other unpopular actions taken by the president, one realises that the main problem we have in Kwame Nkrumah's Ghana is that so many incompetent people are wielding so much power and as such they use the power as and how they like it without thinking about its future implications.

I shall, In sha Allah, be back ....