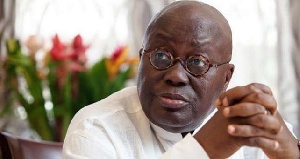 It is said in Dagbani that "Yaa Mila gbobu kayuura". Literally, put; power is ephemeral, but eternal if handled with utmost care. Many at times, persons who have been entrusted with power and reposed with public confidence by dint of benevolence and magnanimity end up squandering their own fortunes and that of their benefactors.
Once again, another proverb in Dagbani says that "The baby goat that refuses to chew its mother's cud, dies of chewing poisonous fodder".

So, those who are given the honour to serve in Nana Akufo-Addo's government but are bent on bringing disgrace to him are doing so at their own peril.

The NPP as a political entity has won three general elections through combined forces since the inception of the fourth Republican dispensation. Former President Agyekum Kuffour picked Alhaji Aliu Mahama of blessed memory as his running mate for two consecutive times. Both in opposition and in power.

Most intriguing example is the partnership between President Nana Addo Dankwa Akufo-Addo and vice-president Dr Mahamudu Bawumia. They have vied for elections as a candidate and a running mate thrice. They were beaten twice. And, won once. Immediately after their victory, Nana Akufo-Addo went on a nationwide 'thank you tour' and below was what Nana Akufo-Addo said in his address to the Upper West Regional House of Chiefs in Wa.

"I say the saddest day of my life because, as a son of the Danquah-Dombo-Busia tradition, I am fully aware that one of the founders of the tradition, the man who gave an example of selfless service to the people of our country, was no less a person than the late Duri Na, Chief S.D. Dombo. Indeed, our tradition bears his name as one of the initiators.

"Beyond him, there were others, B.K. Adama, Jato Kaleo, Na Abayifa Karbo, Mumuni Dimbie. These were the great figures in the development of the United Party and, subsequently, the Progress Party.

They were the founding pillars of the party of which I have the honour to be leading. Therefore to be told that the region from which they came had turned its back totally on our tradition gave me anguish and sadness that I can never describe. I was inconsolable."

"Fortunately, 2016 has now come to wipe away those tears and feeling of sadness. From 0, we have got to 5 out of 11. God willing, the next time, we will get the majority of seats and we will know that we are back again fully."

This address of the then president-elect, to me, is a perfect political pointer that indicates that northerners can never be perceived to be only fit as a second fiddle.

Nana Akufo-Addo was conscious of his statement actually knew what he said. Why was Nana Akufo-Addo consistent in his choice of a running mate? The answer lies in the quote below.

According to an American essayist and poet, Ralph Waldo Emerson, "A foolish consistency is the hobgoblin of little minds, adored by little statesmen and philosophers and divines." 'Consistency' in my opinion, is a means to an end. It is the only trusted way of achieving results, and that can not be considered 'foolish'.

So Nana Akufo-Addo's consistency to maintain Dr. Mahamudu Bawumia as his best choice for the running mate slot, even when a lot of big wigs in the party wanted a fresh face was not 'foolish'.

This was not foolish, because Nana Akufo-Addo wanted to achieve a goal, and his best bet for that auxiliary role was Dr. Mahamudu Bawumia. In contrast, the recent comments made by Honourable William Agyapong Quaittoo, the Member of Parliament for Akim Oda and the former Deputy Minister of Agriculture, exactly situate the entire NPP including himself as well as the president into the context of Ralph Waldo Emerson's definition of 'foolish consistency'.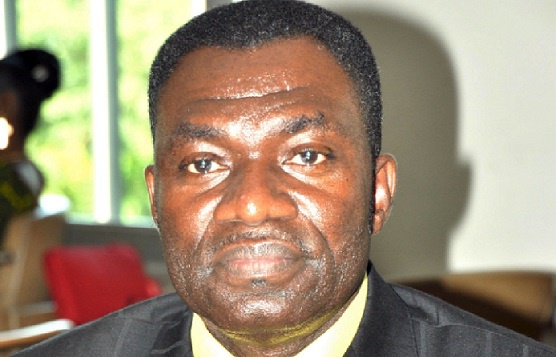 Hon. William Agyapong Quaittoo

Hon. William Quaittoo while reacting to complaints from farmers in the north on how their farms have been destroyed by the fall armyworm and their subsequent appeal for some form of compensation, said on Starr FM station that, "If anybody who is in the north and said his farm was destroyed by fall army-worm the person must prove it.

Our brothers (in the North) it is so difficult to deal with them. I lived there for 27 years, I speak Dagbani like a Dagomba and all that. "They are very difficult people. Nobody can substantiate. If anybody says that his farm was destroyed by army-worm, the person would have to come and prove it. We have no records of that. It's just a way of taking money from the government: that's what they do all the time."

This means Nana Akufo-Addo and the NPP in general, have consistently dealt with the dishonest and insincere bunch of people. People who are unreasonable in discourse.

People who have the penchant for peddling deliberate deceit for selfish fiendishness. His comments were high handed. I wonder what really triggered these unsavoury and unsolicited comments of the former Deputy Agriculture Minister.

There was no provocation whatsoever to have warranted those comments. I also wonder whether he has soon forgotten that, the three northern regions for the first time in the history of the NPP in the fourth republic, gave NPP an overwhelming endorsement which saw their victory in 2016 general elections.

As confessed by the president, Upper West Region for instance, where the NPP has no seat before 2016, voted massively for the NPP and secured five seats to ensure a win for Nana Addo Dankwa Akufo-Addo. This presented this Minister a privilege to serve in government.

So, how can he be so resentful and speak ill of us. I believe his comments were not accidental but intentional. I am strongly tempted to believe that, his comments were premeditated and stemmed from a deep seated stereotypical hatred, hegemony and dogmatism.

The fact is that the comments of the former Deputy Minister of Agriculture are synonymous with his constituency, so to speak. It will be recalled that, Hon. William Quaittoo's predecessor, the Senior Minister, Honourable Yaw Osafo Marfo who was once a Member of Parliament for the same constituency - Akim Oda was also alleged to have made comments that were believed to be ethnocentric, tribal bigotry and hegemonic.

He was caught on tape during NPP's Council of Elders meeting in the Eastern Region, inciting ethnocentric sentiments.

Below were comments reported to have been made by Hon. Yaw Osafo Marfo " You have all the resources, but you have no say in the management of your resources and that is what happening. Your development depends on the one who has no resources…"

Both Honourable Yaw Osafo Marfo and Honourable William Agyapong Quaittoo are astute politicians from the same constituency. Honourable William Quaittoo is seen by Dagombas as one of their own. He's spent at least, half of his entire life in Dagbon. His campaign team was managed by Dagombas and some Northerners.

He sometimes attends meetings of the Dagomba community in his constituency. And, he speaks impeccable Dagbani. He is familiar with the culture of Dagombas. His relation with Dagombas and Northerners, in general, is un-ending. So, why did he make such hate speech? I can not still come to terms with what actually provoked this absolute absurdity of him. Was it a case of running out of words or being a victim of circumstance. As one of my brothers retorted, "is he a fall army worm detector?" to have known which farmers' crops were attacked and which were not.

I think inasmuch as his comments were repugnant and repulsive, his resignation was enough deterrence and a well lesson learnt by all. I appreciate how impassioned we become when comments by individuals seek to undermine and ridicule our ethnicity and culture. But to take a median position, I thought after his unqualified public apology, we were going to let go of the matter and ask him to go and sin no more.
It is a fact that his comments were unpalatable and a potential recipe for ethnocentric turbulence. In the same vein, it was also too much of unappeasable of us Northerners to have called and mounted pressure on him to resign.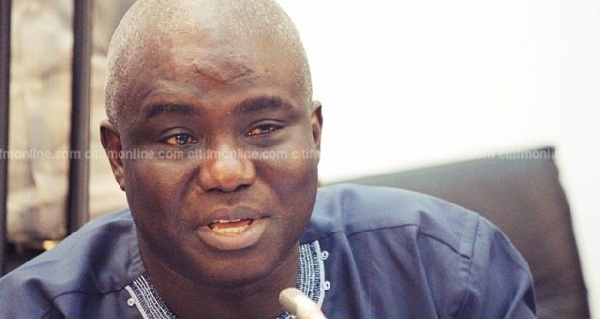 Hon. Eric Opoku

Not to sit on the fence, if worst comments have not been made by politicians in this country, but similar utterances have been staged by certain political figures. I recall the disparaging remarks and total blasphemous comments made by Hon. Eric Opoku - the former Brong Ahafo Regional Minister who also doubled as the Member of Parliament for Asunafo South during President Mahama's government.

He was reported to have said emphatically that, Muslims who associate themselves with the NPP are not real but fake Muslims. He defended his assertion by erroneously and ignorantly quoting a chapter in the Holy Qur'an. And, the most recent palpable lies perpetrated by Honourable Sarah Adwoa Safo and the NPP Communications Director of Dome-Kwabenya Constituency in their claims of building the Kwabenya Community Senior High School.

The hate speech by Hon. Kennedy Agyepong against Ewes. These are a few of several examples. In these instances, they neither resigned nor even in the least apologised. They each mounted serious defences against calls for their resignations.

But in the case of Honourable William Quaittoo, he unreservedly rendered a public apology and subsequently resigned on his own volition. I think he has exhibited a lot of maturity and courage. I also believe his resignation has saved the president a great deal of troubles as to how he was going to handled this.

The resignation of the former Deputy Minister for Agriculture, therefore, deserves commendation rather than condemnation. I think it would not be a bad idea for President Nana Addo Dankwa Akufo-Addo to give him a second chance if he happens to form a new set of appointees in his government.

By then, he might have learnt his lessons. Especially as the Honourable Member of Parliament is not known to have a penchant for making pronouncements that tend to inflame passions.

The president is doing hard to live by his words and most importantly, make sure that his government fulfils the campaign promises he made, for which the people of Ghana gave him their mandates. His detractors both within and without, are also up in arms to distract his attention and thwart his efforts.

A couple of weeks ago, some persons of the opposition and a section of Ghanaians did hard on social media to accuse the president of a sacrilege of standing on the Ghana flag. But, it did not survive the shocks of its own birth.

It dried out like morning dew in a sunny harmattan day. It was not what these people wanted Ghanaians to believe. The fact was that the flag itself was used to decorate the platform while the president stood on a red carpet atop.

The most debilitating and sickening of it all, are those within. Some actions and inactions of certain elements in both government and the party are highly undermining the efforts of the president.

If this continues, it will take away the glister of the excellent works of Nana Akufo-Addo. Look at the scene created by Honourable Anthony Abayifa Karbo. It was completely needless for him to have taken part in the hostility between that thug and the Minister of Roads and Highways. Both he and his boss should not have been part of the scuffle in the first place, because, they each has bodyguards.
Their bodyguards were dutifully detailed to deal with such situations, so why did he personally and physically take part in the fracas and near fisticuffs. This could be best described as flexing political muscle to abuse citizens. Some politicians forget that real power belongs to the people and what they exercise is political power. Indeed, power of any kind is transient so it must be handled with optimum care.

Some individuals within the party are employing monkey tricks, and those are definitely not the key to opening the doors of their insatiable aggrandisement, so they are now humming and fuming like a donkey at midnight wanting to attract its owner's attention of its dissatisfaction.

These if not checked, would become issues that could become cancerous tissues in the body of the Nana Akufo-Addo's government. Some of these people speak with the loudest and deepest voices forgetting that an individual's voice cannot subdue the voices of the masses.

Hasn't the NPP got an internal mechanism to addressing individual members' grievances? So why are they all over the place spewing vindictiveness and vendetta like venomous vipers. These people must be made to understand that making wild allegations of corruption without evidence is not itself a panacea to problems and issuing threats are clear testimony of cowardice.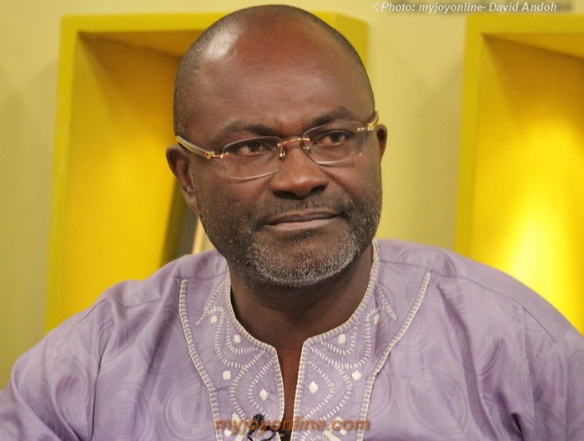 Hon. Kennedy Agyepong

Because some of them have not earned themselves one or two contracts, they have decided to make wild allegations at the president and his officials. Some of these allegations could be true, but others are completely out of peevish malaise and brutish malice.

The biggest culprit of this is the Honourable Member of Parliament for Assin Central, Kennedy Ohene Agyepong. Lately, Master Kwame Asare Obeng (Kwame A-Plus), a popular Ghanaian Hiplife artist and a staunch supporter of the NPP has also joined the frail of guys with the disease of 'verbal diarrhoea'.

I listened to A-Plus' Facebook comments and they were nauseating, to say the least. How can you make such a silly sweeping statement of allegations of corruption against a government you claim to have campaigned to bring into power just because you have a 'feeling' about two deputy chiefs of staff (Mr Asenso Boakye and Mr Abu Jinapor).

Does a feeling give you the right to tag government appointees as "corrupt and thieves"? Hon. Kennedy Agyepong, on the other hand, is also reported to have made very serious allegations of corruption against the Communications Ministry because he did not win a contract at the National Identification Authority (NIA). I hope they both are ready to substantiate their claims with hard facts and clear evidence as the police CID has extended invitations to them.

A lot of Ghanaians are skeptical of Nana Akufo-Addo's administration and the programmes he promised Ghanaians. And, instead of persons who find themselves around the corridors of power to propagate the good intentions of the president, tend to be the very persons who are doing things to deepen people's disbelief and lack of confidence in the president. But as it is said, "a great product needs no advertising". It will invariably be patronised even in the smallest most obscure corner!

Many were those who retorted and bastardised the campaign promises of the then presidential candidate - president Nana Addo Dankwa Akufo-Addo and said they were pure political deceits.

But, eight months into office we are experiencing the winds of better future gradually blowing scintillating breezes of hope and aspirations into the lives of Ghanaians. The transformational agenda and industrialisation processes are on course, and like a magician, the president dishes out his promised programmes and policies one after another from the magically mysterious bag.

By this, I remain resolute with an unflinching belief in the president and his government, at least for now.
So many debts accumulated by the previous government have been paid off. For example, the National Health Insurance Scheme (NHIS) has Ghc 539 million of its Ghc 1.2 billion debt paid off by the president.

The power and energy sectors have also received recapitalisation, and the recurring power outages are history now. Nana Akufo-Addo's government has also launched some social and economic intervention programmes that are geared toward youth development and empowerment. Planting For Food And Jobs and National Entrepreneurship and Innovations Plan are a few to mention.

Just last week, another landmark event was launched by the president at Ekumfi Abonten in Central Region, ie, the One District One Factory Industrialisation Programme. One can also make mention of some good news in the education sector.

That's the restoration of college students' allowances and the unveiling of the free SHS programme. The free SHS, aside from the relief it brings to the pockets of parents also comes with employment suite especially for certified caterers. Very soon other flagship programmes such as One District One Million U.S Dollars and One Village, One Dam will be rolled out, and we are patiently waiting for their launching.

Notwithstanding all this, I expect Ghanaians to continue to press their demands from the government. I also think supporters and members of the government should be fair and firm and critical of the government, but a constructive mind.

The president himself has promised not to entertain corruption and any kind of financial improprieties. And, he reiterated this last Saturday at the NPP National Delegates Conference at Cape Coast, Central Region.

In his address at the Delegates Conference, the president made it categorically clear that every allegation of financial impropriety would not be swept under the carpet.

All allegations of corruption by his appointees would be attended to by the appropriate quarters. And he has since referred some of these allegations to the police CID.

To conclude, I have no advice, but a word of reminder. A stone once thrown can not be retrieved until the damage is caused. And, what the mouth says, the hand cannot erase.

So, if some elements of the NPP have made it their business to cause nightmares or drag themselves into the slough and throw mud at one another in public glare, we will stand by and watch them naked when they undress to wash their linens. A word to the wise is 'in the north'.

Just thinking aloud. Thnx!

Naa Gbewaah Sidiq's Folder.